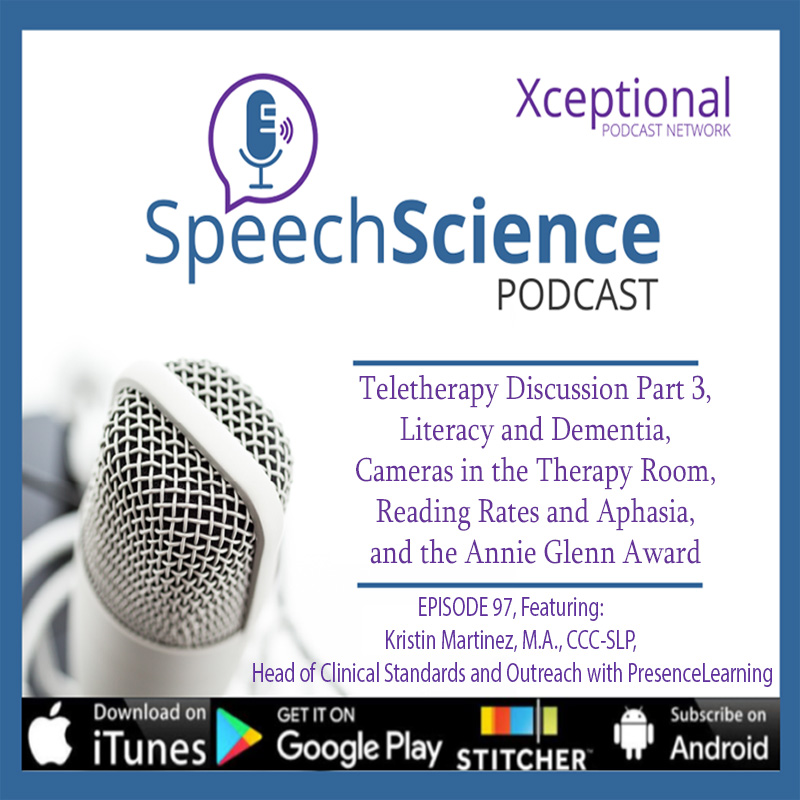 The Discord is up and ready for people to interact with the crew 24/7. Matt and Michelle are prepping for ASHA this week!  As this goes live, Michelle will be in the air and Matt will be driving through the foothills of Tennessee. Are you making your plans to see the live taping at ASHA? Head over to Xceptionaled.com for more information to see the crew live in Florida.  Matt is presenting on the Ethics of Podcasting and Michelle is hosting a live Speech Science Event.
Teletherapy looks to be the future of speech and language pathology. What is the best way to handle the increase and demands? Michelle sat down with Kristin Martinez from PresenceLearning for a 3 part interview diving into the nuts and bolts of Teletherapy. This week on part 3, they talk about discharge and answering all of your questions about teletherapy. Kristin Martinez is the head of Clinical Standards and Outreach at PresenceLearning.
Did you know there may be a link between literacy and dementia.  Recent research shows that literate patients or patients that are life long readers may have a less chance at cognitive decline and dementia.  How does literacy impact your ability to correctly identify cognitive decline.  How comfortable would you be with a camera in your therapy session?  Who should or shouldn't access it?  A school district in Dallas wants cameras in every special education classroom. 
The reading rate of speakers may be impacting people with Aphasia.  A study looked at rates of 120, 150, and 180 words per minute to identify the appropriate speed.  Could this impact receptive language students in the classroom?  It is ASHA week, what are your plans?  Make sure you tag #SSPOD in all of your ASHA podcasts and visit the hosts live on the show floor. 
Email: speechsciencepodcast@gmail.com
Voicemail: (614) 681-1798
Discord:
New Episode and Interact here:
podcast.speechsciencepodcast.com
Patreon – A Chance for Dinner at ASHA
https://www.patreon.com/speechsciencepodcast
Rate and Review:
https://podcasts.apple.com/us/podcast/speechscience-org-podcast/id1224862476?fbclid=IwAR3QRzd5K4J-eS2SUGBK1CyIUvoDrhu8Gr4SqskNkCDVUJyk5It3sa26k3Y&ign-mpt=uo%3D8&mt=2