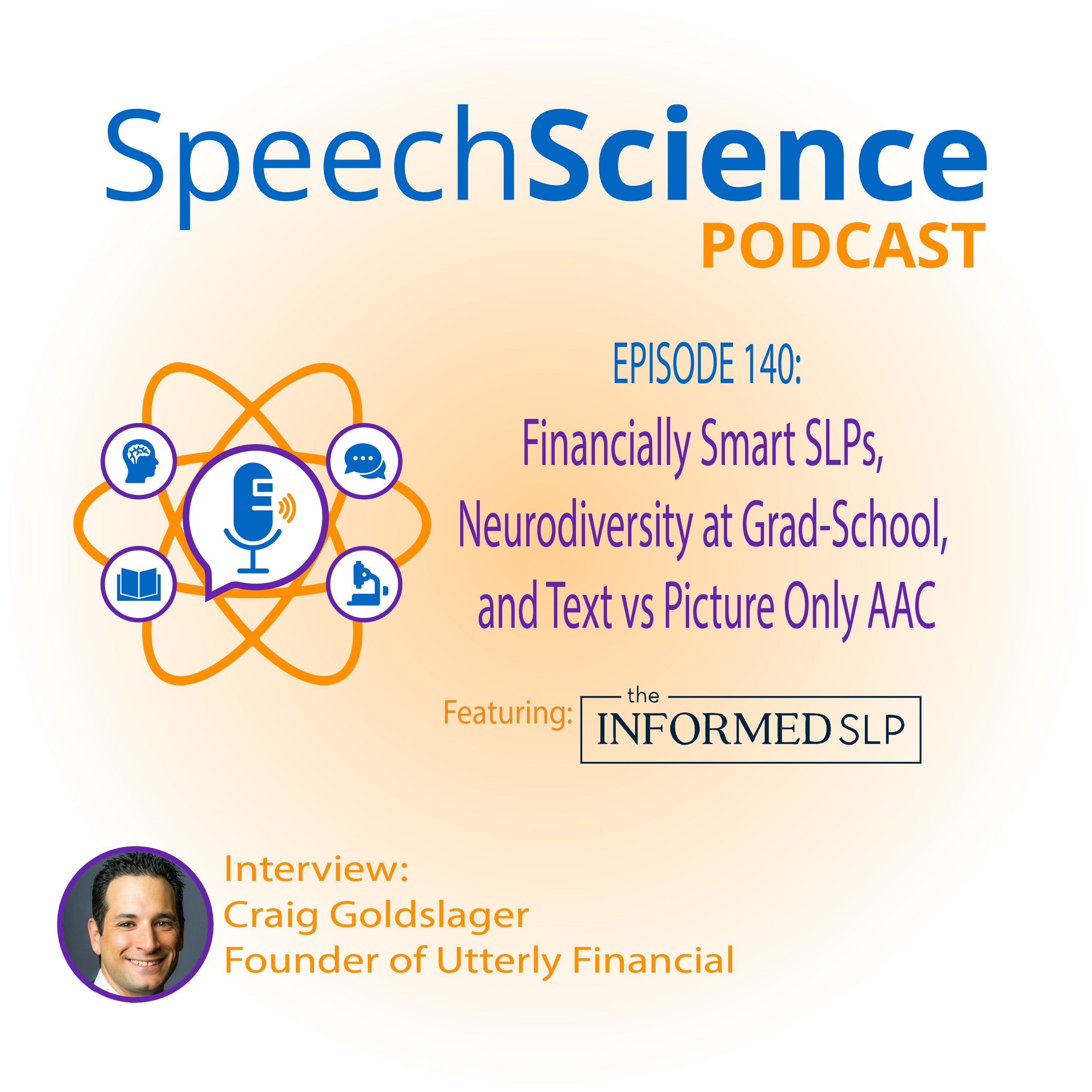 Michael, Matt, and Michelle did a live Facebook test before this week's episode to identify doing future shows live!    Mike and his newborn experienced her first round of shots this week and the impact of being a father and a therapist.  Michelle ramps back up for therapy in a new state.  Matt looks at his last 33 days of school therapy and any missed therapy sessions.  A question was posed on the Discord if all schools take comprehensive exams, the crew discusses their experience with "comps."
On today's show, we look at graduate program looking at a neurodiversity specialty, we look at the comparison between pictures and pictures with text for AAC users, a look at ASHA, the Informed SLP tells us about a new tool for dysphagia and FEES, and the Speech News Headlines.   Michelle sat down with Craig Goldslager of Utterly Financial and looks at what SLPs need to know financially.   
The Discord is up and ready for people to interact with the crew 24/7 with a new website, www.discord.speechsciencepodcast.com.
SSPOD Shoutout: Do you know an SLP who deserves a digital fist bump or shout out?  We want to know your #SSPODSHOUTOUT, which is recognition for someone doing something awesome somewhere. 
SSPOD Due Process: Your opportunity to message us about a problem in your area that you would like us to talk about, use the #SSPODDUEPROCESS. 
Topic #1:  Kean University has recently offered a new program to allow for graduate students to specialize in neurodiversity.  As our profession continues to look at a clinical doctorate, should all programs look to offer more specialization?
Topic 2: Should an AAC device have text or pictures or both?  A recent small introductory study looked at the generalization of both and which may be best for AAC users.        
The Informed SLP: There's a promising new tool for you to objectively measure pharyngeal retention on your studies that's easy to learn and use.
Interview: Michelle sat down with Craig Goldslager of Utterly Financial and looks at what SLPs need to know financially.   Craig takes a deep dive into the financial needs of SLPs and he speaks from experience, his wife is an SLP.  Craig is launching his own Podcast to look at the financial sides of being a therapist.  
Contact
Email: speechsciencepodcast@gmail.com
Voicemail: (614) 681-1798
Discord: https://discord.speechsciencepodcast.com
Speech Science Stuff: http://merchandise.speechsciencepodcast.com/
New Episode and Interact here:
podcast.speechsciencepodcast.com
Support
Patreon – https://www.patreon.com/speechsciencepodcast
Rate and Review:
https://podcasts.apple.com/us/podcast/speechscience-org-podcast/id1224862476?fbclid=IwAR3QRzd5K4J-eS2SUGBK1CyIUvoDrhu8Gr4SqskNkCDVUJyk5It3sa26k3Y&ign-mpt=uo%3D8&mt=2
Credits
Intro Music: Please Listen Carefully by Jahzzar is licensed under a Attribution-ShareAlike License.
Bump Music: County Fair Rock, copyright of John Deku, at soundcloud.com/dirtdogmusic
The Informed SLP: At The Count by Broke For Free is licensed under a Creative Commons Attribution License
Closing Music: Slow Burn by Kevin MacLeod is licensed under a Creative Commons Attribution License.
Show Links
The Informed SLP:
https://www.theinformedslpmembers.com/reviews-adults/theres-a-new-tool-in-town-the-mansoura-fees-residue-rating-scale-1
https://www.karger.com/Article/Abstract/512158
Neurodiversity Programming
https://leader.pubs.asha.org/do/10.1044/leader.AE.26042021.30/full/?fbclid=IwAR0Ab2DV3IfOz7bY0ifySNxmNqo94lEKMvZN09lkZ2XNmSHNhTICXE9KfkA
AAC and Text
https://pubs.asha.org/doi/10.1044/2020_AJSLP-20-00099?fbclid=IwAR2Z_fHYFBfsdTzuewiQjnyYupp8ghP2o8JZz3SgnAUz-JbGVcHGhBcllGw
Utterly Financial
Speech Science Powered by: You!