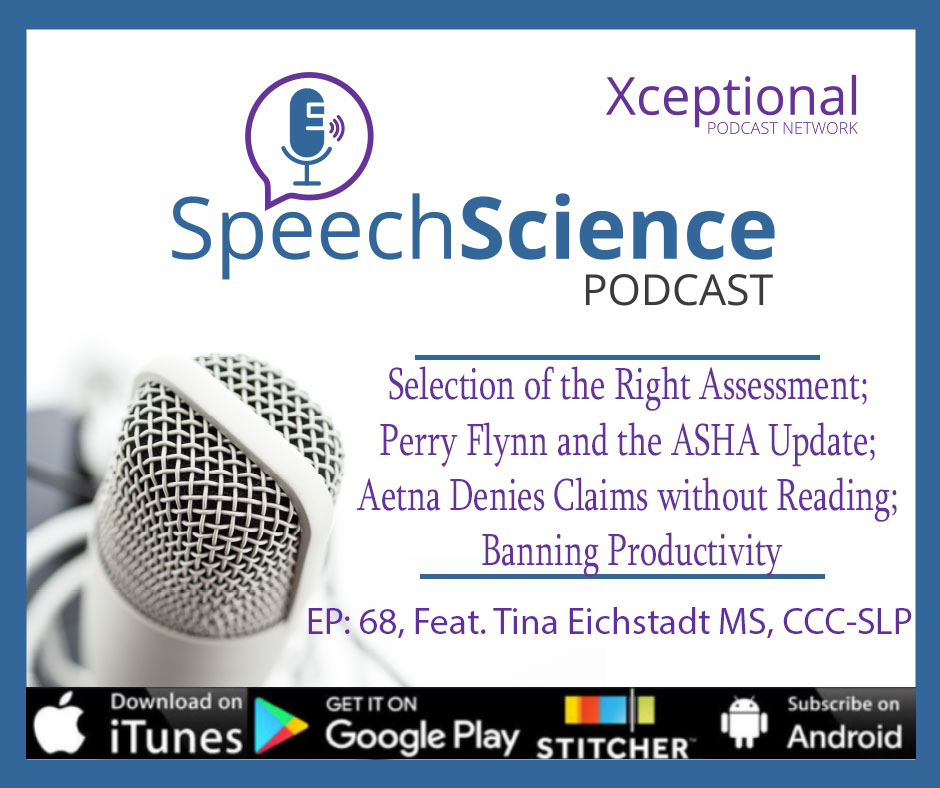 Episode 68: Tina Eichstadt and the Selection of the Right Assessment, Perry Flynn and the ASHA Update, Aetna Denies Claims without Reading, and Banning Productivity
Matt, Michael, and Michelle discuss Luke Perry passing from the complications of a stroke and the impact it has on others.  Perry Flynn took time from his trip to Capital Hill to inform Speech Science Listeners what ASHA is doing for them.  Aetna Medical Director admits to never reviewing medical claims before declining to pay for them.  What role does productivity have in your setting?  An idea for an MD is to ban it completely.  Lastly, Tina Eichstadt from Pearson Assessments sits down and discusses all things about assessments.  How are they chosen, which is the best, and how do you get yours represented by Pearson. 
Email: speechsciencepodcast@gmail.com
Voicemail: (614) 681-1798
Patreon
https://www.patreon.com/MWHProduction 
New Episode and Interact here:
podcast.speechsciencepodcast.com
Rate and Review:
https://itunes.apple.com/us/podcast/speechscience-org-podcast/id1224862476?mt=2&ign-mpt=uo%3D8
Show Links
Banning Productivity
https://www.kevinmd.com/blog/2017/09/time-ban-productivity-medicine.html?fbclid=IwAR067BrPbF5rnxWHPxDb5cxQLZ_Bi36KpTzPY4JJfwcTE0uea5eeHaDkePo
Aetna Medical Director Doesn't Read
https://www.forbes.com/sites/robertglatter/2018/02/11/former-aetna-medical-director-admits-to-never-reviewing-medical-records-before-denying-care/?fbclid=IwAR2kSuaBUm-1DNcNAr3NQtavUbImpCdcaMjD1f3dx0gGP9Cu__ybP_NMpyQ#3775ac9335e5
ASHA Advocacy
https://www.asha.org/advocacy/
Thanking My SLP
http://community.today.com/post/to-my-daughters-speech-therapist-thank-you?cid=sm_npd_td_fb_ma&fbclid=IwAR3loY0lKBPcx_ncBgCOriyhYTHVsDS9MTp_GYl_HTV4J1DnIsMcw8ubqfQ
Luke Perry courtesy of ET (Used in Free Use for Educational Purposes)
https://www.youtube.com/watch?v=fPjmLXXW60I
ASHA Super Bill
https://www.asha.org/uploadedFiles/ModelSuperbillAud.pdf
Tina Eichstadt
https://leader.pubs.asha.org/doi/10.1044/leader.SCM.21032016.32
https://www.pearsonclinical.com/landing/dyslexia-resources-for-educators/meet-the-team.html
Intro Music: Please Listen Carefully by Jahzzar is licensed under a Attribution-ShareAlike License.
Bump Music: The Spellbreaker by Tri-Tachyon is licensed under a Attribution License.
Closing Music: Slow Burn by Kevin MacLeod is licensed under a Creative Commons Attribution License.
Speech Science Powered by:
Pearson provides a variety of assessment and intervention materials for speech and language pathologists, audiologists, and related practitioners, which can lead to greater insights, better decisions, and successful outcomes for children and adults. Our respected products include the PPVT™-5, EVT™-3, GFTA-3, GFTA-3 Spanish, KLPA-3, CELF®-5, and PLS-5.