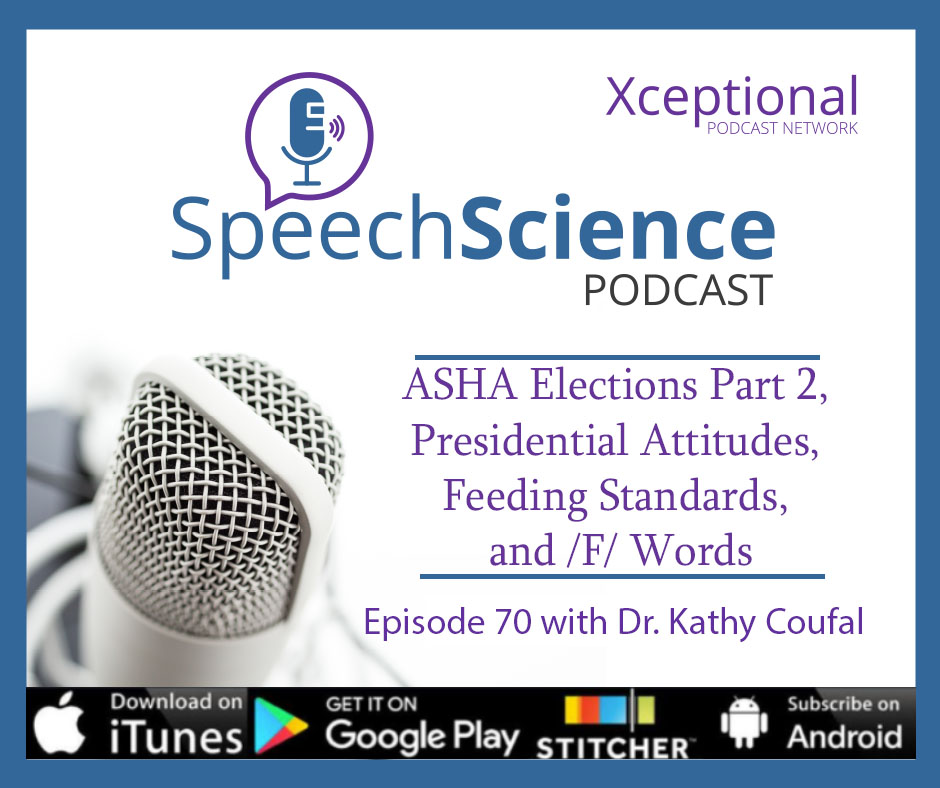 Matt, Michael, and Michelle discuss the news and views of the week.  This week, President Donald Trump mocked Joe Biden's dysfluent moment by stating he had a low IQ, he did this previously to Seth Myers in 2011.  Did cooking food lead us to being able to state our favorite F and V words?  Lastly, a start date for a Dysphagia Standard is coming in less than 2 months, what does this mean for us?  Lastly, Dr. Kathy Coufal has spent her career advocating and teaching leaders in our field.  Now she is running for VP of Planning and sat down with Matt to talk about her vision for ASHA. 
Email: speechsciencepodcast@gmail.com
Voicemail: (614) 681-1798
Patreon
https://www.patreon.com/MWHProduction
New Episode and Interact here:
podcast.speechsciencepodcast.com
Rate and Review:
https://itunes.apple.com/us/podcast/speechscience-org-podcast/id1224862476?mt=2&ign-mpt=uo%3D8
Show Links
Cooking Food Changed our Jaws
https://www.npr.org/sections/thesalt/2019/03/14/703100483/did-cooking-really-give-us-the-f-word
Start Date for Dysphagia Standards
https://www.asha.org/news/2018/start-date-for-u-s--implementation-of-international-dysphagia-diet-standardisation-initiative-(iddsi)-announced/?fbclid=IwAR3tsT5J63tu-A8xovPnQMGGwvw407vZRjiZN9ils4kBNZ1Ljw66kzOcFXY
https://iddsi.org/implementation/
Presidential Attitudes Towards Stuttering
https://westutter.org/nsa-response-to-president-trumps-tweet-re-biden/?utm_source=Facebook&utm_medium=Referral&utm_campaign=Mar18_19&fbclid=IwAR0zLNflMOVPlh5lRizC5LQ_Do768O-JzO-Zar4jmpviFXATSs8i4D8fLL4
https://www.thedailybeast.com/seth-meyers-talks-taking-on-bully-donald-trump-and-sitting-down?ref=scroll
https://www.stutteringhelp.org/content/shame-you-mr-trump
Kathy Coufal
https://www.asha.org/About/governance/election/Board-of-Directors-Candidates/
https://www.unomaha.edu/college-of-education/special-education-communication-disorders/about-us/directory/kathy-coufal.php
Yellow Blocks on the Sidewalk?
https://www.cnn.com/2019/03/18/world/seiichi-miyake-tactile-blocks-impact-trnd/index.html
Intro Music: Please Listen Carefully by Jahzzar is licensed under a Attribution-ShareAlike License.
Bump Music: The Spellbreaker by Tri-Tachyon is licensed under a Attribution License.
Closing Music: Slow Burn by Kevin MacLeod is licensed under a Creative Commons Attribution License.
Speech Science Powered by:
Special Free Tools for Speech Science Listeners
www.pearsonclinical.com/speechscience
Pearson provides a variety of assessment and intervention materials for speech and language pathologists, audiologists, and related practitioners, which can lead to greater insights, better decisions, and successful outcomes for children and adults. Our respected products include the PPVT™-5, EVT™-3, GFTA-3, GFTA-3 Spanish, KLPA-3, CELF®-5, and PLS-5.