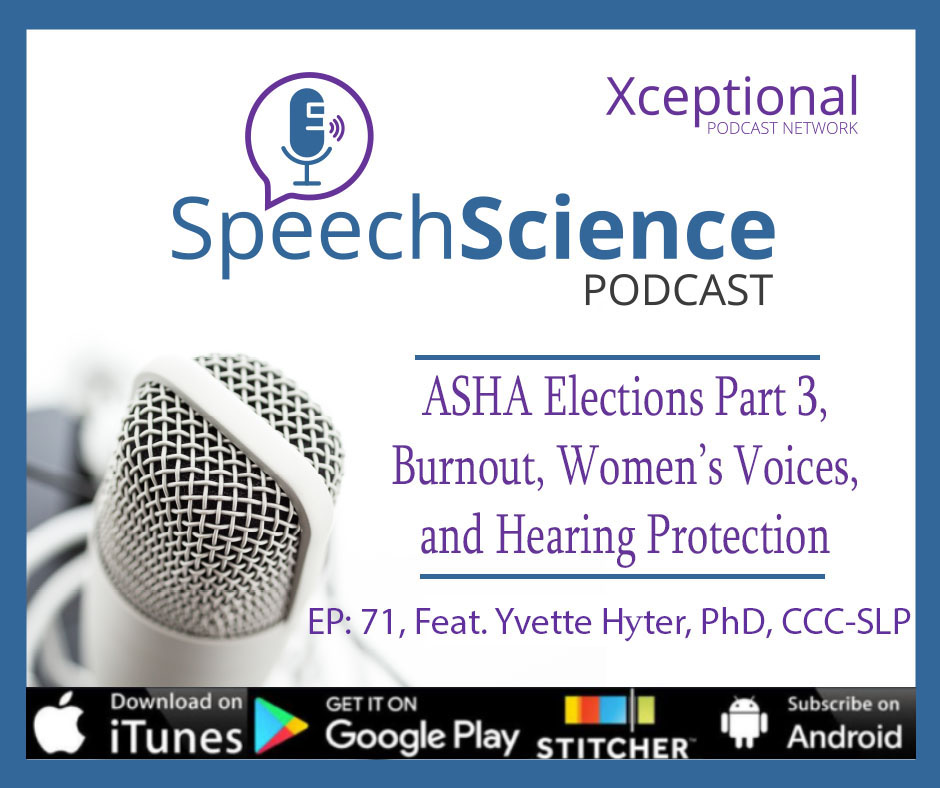 Episode 71:  ASHA Elections Part 3: Dr. Yvette Hyter; Burnout, Women's Voice; and Hearing Protection
On this episode, the crew went back to Facebook Live to start the show.  Michael, Matt, and Michelle discuss holding licensures in multiple states.  What is Burnout? How can SLPs help women be heard at work?  How loud is too loud?  Did you know there are amusement parks labeled as a Certified Autism Center, what about Sesame Street?  Michelle was able to sit down with Dr. Yvette D. Hyter.  Yvette is an ASHA Fellow, and Professor of Speech, Language, and Hearing Sciences at Western Michigan University in Kalamazoo.  Yvette is running for VP of Planning for ASHA. 
Email: speechsciencepodcast@gmail.com
Voicemail: (614) 681-1798
 Patreon
https://www.patreon.com/MWHProduction
New Episode and Interact here:
podcast.speechsciencepodcast.com
Rate and Review:
https://itunes.apple.com/us/podcast/speechscience-org-podcast/id1224862476?mt=2&ign-mpt=uo%3D8
Show Links
The Unheard Female Voice:
https://leader.pubs.asha.org/doi/10.1044/leader.FTR1.24022019.44?fbclid=IwAR2giLGpLEQPt9cYhCMo_oGcrh5nZCX0B03H_5_60mB3QpK9Ga966By9E_U
Loud is too Loud
https://www.asha.org/News/2019/ASHA-New-Global-Recommendations-for-Safe-Listening-Are-An-Unprecedented-And-Significant-Step-In-The-Right-Direction/?fbclid=IwAR1ujEODPzBMzvOLTIzYIZeFLFu9rqZSgRIvu8n6SkjfShVYMi1-LNuIbIA
Certified Autism Center
https://sesameplace.com/philadelphia/help/autism-resources/?fbclid=IwAR0oCetJBStFrI6GEsPqMEYC7nVs_9Rzd6yrFL0Ht7PFvACFC80faGe7bgA
Burnout with ZDOGG MD
https://www.youtube.com/watch?v=L_1PNZdHq6Q
https://zdoggmd.com/moral-injury/
Dr. Yvette Hyter
https://wmich.edu/speech-audiology/directory/hyter
https://www.asha.org/about/governance/election/
Intro Music: Please Listen Carefully by Jahzzar is licensed under a Attribution-ShareAlike License.
Bump Music: The Spellbreaker by Tri-Tachyon is licensed under a Attribution License.
Closing Music: Slow Burn by Kevin MacLeod is licensed under a Creative Commons Attribution License.
Speech Science Powered by:
Special Free Tools for Speech Science Listeners
www.pearsonclinical.com/speechscience
Pearson provides a variety of assessment and intervention materials for speech and language pathologists, audiologists, and related practitioners, which can lead to greater insights, better decisions, and successful outcomes for children and adults. Our respected products include the PPVT™-5, EVT™-3, GFTA-3, GFTA-3 Spanish, KLPA-3, CELF®-5, and PLS-5.