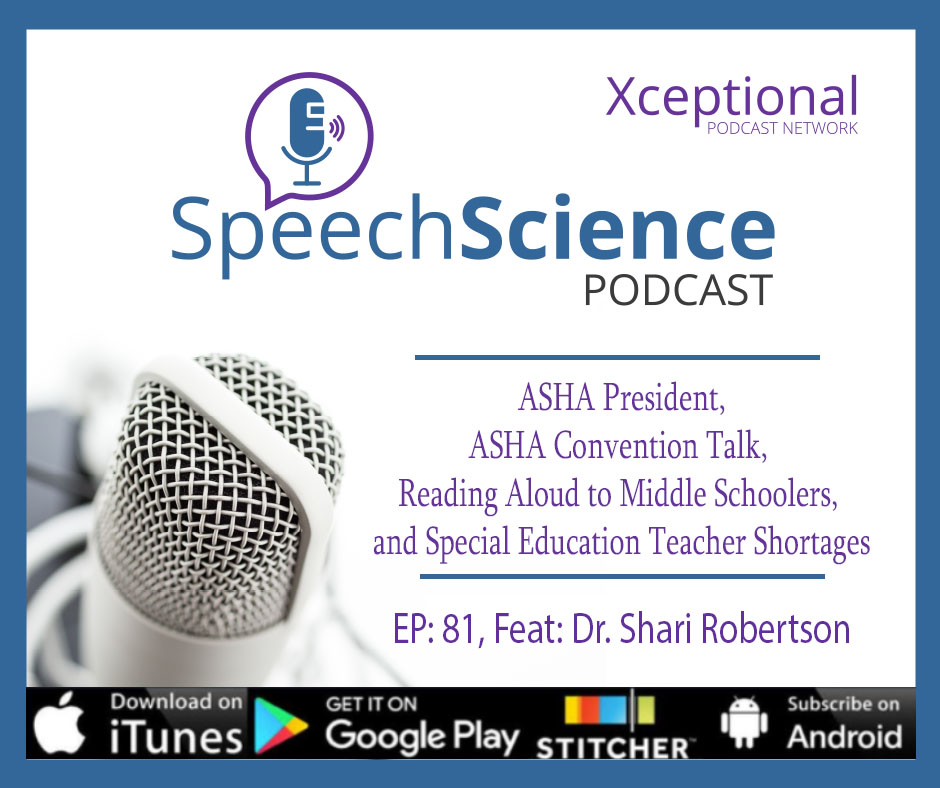 Episode 81: ASHA President, ASHA Convention Talk, Reading Aloud to Middle Schoolers, and Special Education Teacher Shortages
On this week's show: Michelle talks orientation, Michael returns from Tahoe, and Matt talks parenting. 
Who is to blame for teacher shortages?  How do we keep teachers in the building?  Is it caused by burnout?  A recent NPR article discusses the rise of special education teacher shortages.  Do you spend time in your therapy setting reading aloud?  Would you read aloud to your middle school students?  Research points out that reading aloud helps not just young students but the older students as well.
ASHA President Dr. Shari Robertson stops by to talk what is happening at ASHA.  She speaks on when she found out she was elected, what her current roles and goals for ASHA are, and what she would like to see in the future.  Dr. Robertson speaks on her initiative to add more imagination to therapy, what we can expect at the ASHA Connect 2019 and the ASHA National Convention 2019, ASHA international outreach, and how to carry over the good will from Better Speech and Hearing month into the rest of the year.   
Email: speechsciencepodcast@gmail.com
Voicemail: (614) 681-1798
New Episode and Interact here:
podcast.speechsciencepodcast.com
Patreon – A Chance for Dinner at ASHA
https://www.patreon.com/speechsciencepodcast
Rate and Review:
https://itunes.apple.com/us/podcast/speechscience-org-podcast/id1224862476?mt=2&ign-mpt=uo%3D8
Show Links
Election Results:
https://www.asha.org/News/2019/2019-Board-of-Directors-Election-Results/?fbclid=IwAR1ePX0Ge2wT6IZrrLLF0Cuwm949uwaGYbehDk0PJi2Ee9suKhZ1NXYbeeE
Special Education Teacher Shortages:
https://www.npr.org/sections/ed/2015/11/09/436588372/behind-the-shortage-of-special-ed-teachers-long-hours-crushing-paperwork?utm_campaign=meetedgar&utm_medium=social&utm_source=meetedgar.com&fbclid=IwAR3_aduGYwR92byYS8Z79wNzsoM4Hoa9t2rL1mGnUXFpX54DhS2zG4iozhc
file:///D:/Downloads/1517-OConnor-Johnny.pdf
http://wvmetronews.com/2019/06/05/house-minority-leader-sees-issues-with-student-success-act-passed-in-senate/
People or Identity First Language
https://www.stairwaytostem.org/editorial-policy/
Benefits of Reading Aloud
https://www.edutopia.org/article/reading-aloud-middle-school-students
https://files.eric.ed.gov/fulltext/EJ1073207.pdf
Club 1111
https://www.baltimoresun.com/health/bs-md-club-for-people-with-disabilties-20190523-story.html?fbclid=IwAR0tc1_xxEXfXZbD2WEtw5gic2Ie_ikrp0JVUGdZilgrF74whHsIK0ka6Ns
Dr. Shari Robertson
https://www.asha.org/About/governance/BOD/members/Shari-Robertson-25769776065/
https://www.asha.org/Events/Connect/Schools-Connect/
https://www.asha.org/connect2019/
Intro Music: Please Listen Carefully by Jahzzar is licensed under a Attribution-ShareAlike License.
Bump Music: County Fair Rock, copyright of John Deku, at soundcloud.com/dirtdogmusic
Closing Music: Slow Burn by Kevin MacLeod is licensed under a Creative Commons Attribution License.
Speech Science Powered by: You!