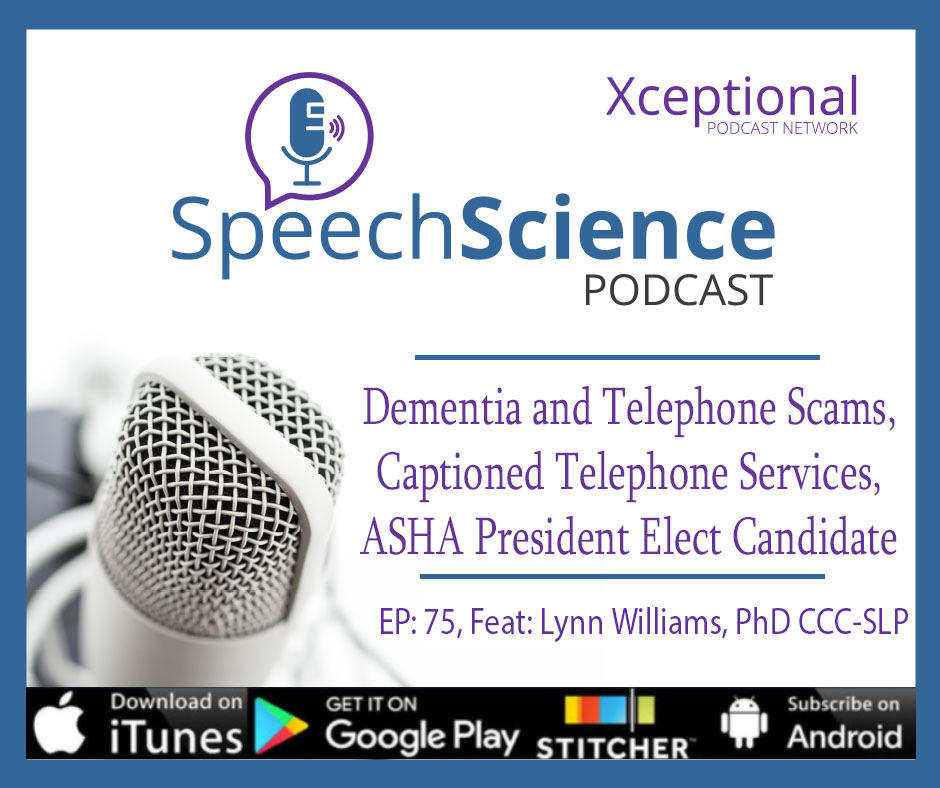 Episode 75: Dementia and Telephone Scams, Captioned Telephone Services, ASHA President Elect Candidate Lynn Williams
Could our ability to fall for multi-media scams be a sign for dementia?  Your ability to understand and identify phishing attempts could be directly linked to signs for future dementia.  AAA and ASHA have teamed up to create a standard for captioned telephone services.   Dr. Lynn Williams sat down with Speech Science to discuss the power of the CCCs, the future of the association, and her view on the direction it should go.  Dr. Williams also touched on how to improve awareness and advocacy in our field and what does the clinical doctorate has to do with it. 
Go Vote: https://www.asha.org/about/governance/election/
Email: speechsciencepodcast@gmail.com
Voicemail: (614) 681-1798
 Patreon
https://www.patreon.com/MWHProduction
New Episode and Interact here:
podcast.speechsciencepodcast.com
Rate and Review:
https://itunes.apple.com/us/podcast/speechscience-org-podcast/id1224862476?mt=2&ign-mpt=uo%3D8
Show Links
Captioned Telephone Services
https://www.prweb.com/releases/aaa_and_asha_issue_suggested_best_practices_for_determining_eligibility_for_captioned_telephone_services/prweb16249212.htm?fbclid=IwAR0Woz5X-cZdbbaaQUlFB2UfDbnEpS3CbRyWXsT99OkKRy9syPTrngvWUxA
Mandatory Personal Finance Classes
https://www.newscentermaine.com/article/news/education/personal-finance-education-may-soon-be-mandatory-in-maine-schools/97-354ea462-66d5-46f9-be54-8c7be01d2c00
Weakness for Scams may mean dementia
https://www.courthousenews.com/weakness-for-scams-may-be-warning-sign-of-dementia/?fbclid=IwAR0_gv8xN_YxenAYEatXULJVbq6upooSKJe4jJlphU6NyN9NLrCMwen5QBA
https://www.newsweek.com/alzheimers-early-warning-falling-scams-dementia-1394237
https://www.geek.com/culture/test-your-scam-smarts-with-online-fraud-quiz-1728543/
Special Education Award
https://www.bakersfield.com/news/local-special-education-teacher-receives-teacher-innovator-award-from-henry/article_ef40b5a2-6216-11e9-bcbd-4ff6c2eb5215.html
Dr. Lynn Williams
https://www.asha.org/About/governance/election/Lynn-Williams/
Intro Music: Please Listen Carefully by Jahzzar is licensed under a Attribution-ShareAlike License.
Bump Music: County Fair Rock, copyright of John Deku, at soundcloud.com/dirtdogmusic
Closing Music: Slow Burn by Kevin MacLeod is licensed under a Creative Commons Attribution License.
Speech Science Powered by:
Special Free Tools for Speech Science Listeners
www.pearsonclinical.com/speechscience
Pearson provides a variety of assessment and intervention materials for speech and language pathologists, audiologists, and related practitioners, which can lead to greater insights, better decisions, and successful outcomes for children and adults. Our respected products include the PPVT™-5, EVT™-3, GFTA-3, GFTA-3 Spanish, KLPA-3, CELF®-5, and PLS-5.