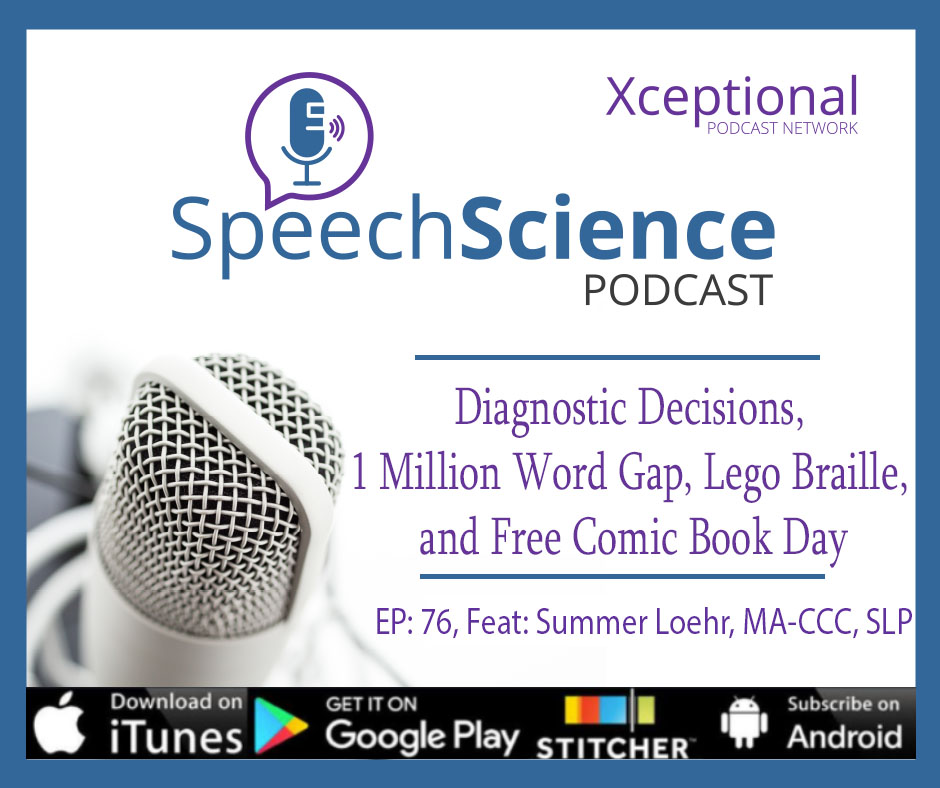 Episode 76: Diagnostic Decisions, 1 Million Word Gap, Lego Braille, and Free Comic Book Day
Special guest host, the award winner and the only member of XPN to have her name on a shirt from Talking with Tech, Rachel Madel sat down with Michael and Michelle this week.  Michael on a fresh return from a trip to Boston and Matt continues to count down his days till summer break while Rachel preps for a trip to the Grand Canyon.  97% of clinicians allow standardized scores to guide their clinical decisions, but is that the best way to make the decision?  They discuss the role of the "Diagnostic Triangle."  If you read a child 5 books a day from the day they are born, they will have heard 1.5 Million words by the time their 5.  If you don't read to them, they may be missing over a million words.  Lego is teaching children Braille.  Lastly, this week is Free Comic Book Day (Saturday May 4th).  Summer Loehr from the SLBeeps stops in to discuss the funny books and therapy.  You should be using comic books in your therapy sessions and we will tell you where to get some free books and also why you should buy something else while you are there.    
Go Vote: https://www.asha.org/about/governance/election/
Email: speechsciencepodcast@gmail.com
Voicemail: (614) 681-1798
Patreon
https://www.patreon.com/MWHProduction
Rate and Review:
https://itunes.apple.com/us/podcast/speechscience-org-podcast/id1224862476?mt=2&ign-mpt=uo%3D8
Show Links
Rachel Madel is a Speech-Language Pathologist, autism expert and co-host of the "Talking with Tech" podcast:
https://xceptionaled.com/podcasts/talking-with-tech-podcast/
https://www.facebook.com/rachelmadelslp
https://www.instagram.com/rachelmadelslp
Diagnostic Decisions
https://jslhr.pubs.asha.org/doi/full/10.1044/2019_LSHSS-18-0044?fbclid=IwAR2TbD-9DcufX8WF1h2JLkQ6OF4ZZtPRjszQ9y9zeAu-_hxb-0zZ8ZT8evw
One Million Word Gap
https://news.osu.edu/a-million-word-gap-for-children-who-arent-read-to-at-home/?fbclid=IwAR0JKsG9H0z4x6vL9tH_9w1FO_zsMtVmvSUv3s4uDpp7kx6EQOHVvh5ZalM
https://www.sunnyskyz.com/good-news/3235/This-Principal-Reads-Books-On-Facebook-Every-Week-To-Ensure-Her-Students-Have-A-Bedtime-Story
Braille Books
https://www.fastcompany.com/90338345/these-lego-bricks-have-bumps-that-teach-braille
Free Comic Book Day and Therapy
https://www.freecomicbookday.com/
https://www.facebook.com/slbeeps/
http://cincinnaticomicexpo.com/
https://proliteracy.org/Blogs/Article/385/5-Ways-Comic-Books-Can-Improve-Literacy-Skills
Intro Music: Please Listen Carefully by Jahzzar is licensed under a Attribution-ShareAlike License.
Bump Music: County Fair Rock, copyright of John Deku, at soundcloud.com/dirtdogmusic
Closing Music: Slow Burn by Kevin MacLeod is licensed under a Creative Commons Attribution License.
Speech Science Powered by: You!