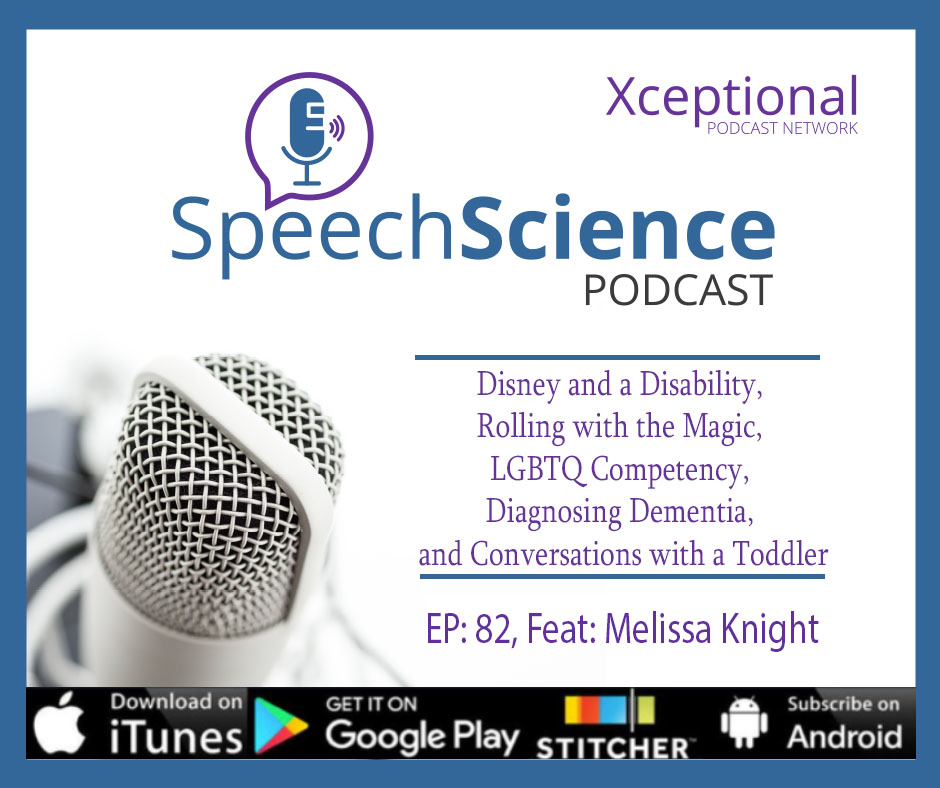 Episode 82: Disney and a Disability, Rolling with the Magic, LGBTQ Competency, Diagnosing Dementia, and Conversations with an Toddler
This week Michael talks about taking therapy from the clinic to the real world, Michelle talks swimming with a young child, and Matt is live from Disney World. 
A Facebook post had an SLP state she may not work with a patient if she does not agree with their relationship status.  How culturally competent are SLPs when it comes to LGBTQ populations?  June is Pride Month and a study of 4 countries shows that SLPs have difficulty in identifying the needs of a growing population base.  Why does the right diagnosis matter when it comes to Dementia?  Many families hear the word dementia and think Alzheimer's.  Its important to educate our families and patients about the differences in dementia and the expected outcomes.   Lastly, a wonderful video has hit the internet showing a dad and son talking.  The son, however, is very young but has picked up some great social language skills.  This video is a wonderful model for all parents. 
How do you do Disney World if you have a Disability?  Melissa Knight from Rolling with the Magic joins the conversation this week to help take away some of the anxiety related to vacationing with a disability.  Melissa is a blogger and Disney Parks enthusiast who visits Walt Disney World several times a year. Melissa started her blog to share her experience as a wheelchair user and loves showing people that the parks are for everyone.
Email: speechsciencepodcast@gmail.com
Voicemail: (614) 681-1798
New Episode and Interact here:
podcast.speechsciencepodcast.com
Patreon – A Chance for Dinner at ASHA
https://www.patreon.com/speechsciencepodcast
Rate and Review:
https://itunes.apple.com/us/podcast/speechscience-org-podcast/id1224862476?mt=2&ign-mpt=uo%3D8
Show Links
LGBTQ
https://pubs.asha.org/doi/10.1044/2015_AJSLP-14-0095?fbclid=IwAR11GfH7pHfBf0j9eb6sghlC18GafZJPntzKE2cLz84Rtq3bu6x4IZH2FQc
Diagnosing Dementia
https://www.npr.org/sections/health-shots/2019/03/18/703944116/is-it-alzheimers-or-another-dementia-the-right-answer-matters?utm_source=facebook.com&utm_medium=social&utm_campaign=npr&utm_term=nprnews&utm_content=20190318&fbclid=IwAR1Z64Y4nF0D2rfRUWNjUaEcH9Wpe28_0Zh_xBUvYVyVzklS8ne3skoGnfo
Rolling with the Magic
http://www.rollingwiththemagicblog.com/
https://www.facebook.com/RollingwiththeMagic/
Father and Son
https://www.today.com/parents/dad-chats-infant-son-about-tv-finale-adorable-video-t155568
Intro Music: Please Listen Carefully by Jahzzar is licensed under a Attribution-ShareAlike License.
Bump Music: County Fair Rock, copyright of John Deku, at soundcloud.com/dirtdogmusic
Closing Music: Slow Burn by Kevin MacLeod is licensed under a Creative Commons Attribution License.
Speech Science Powered by: You!