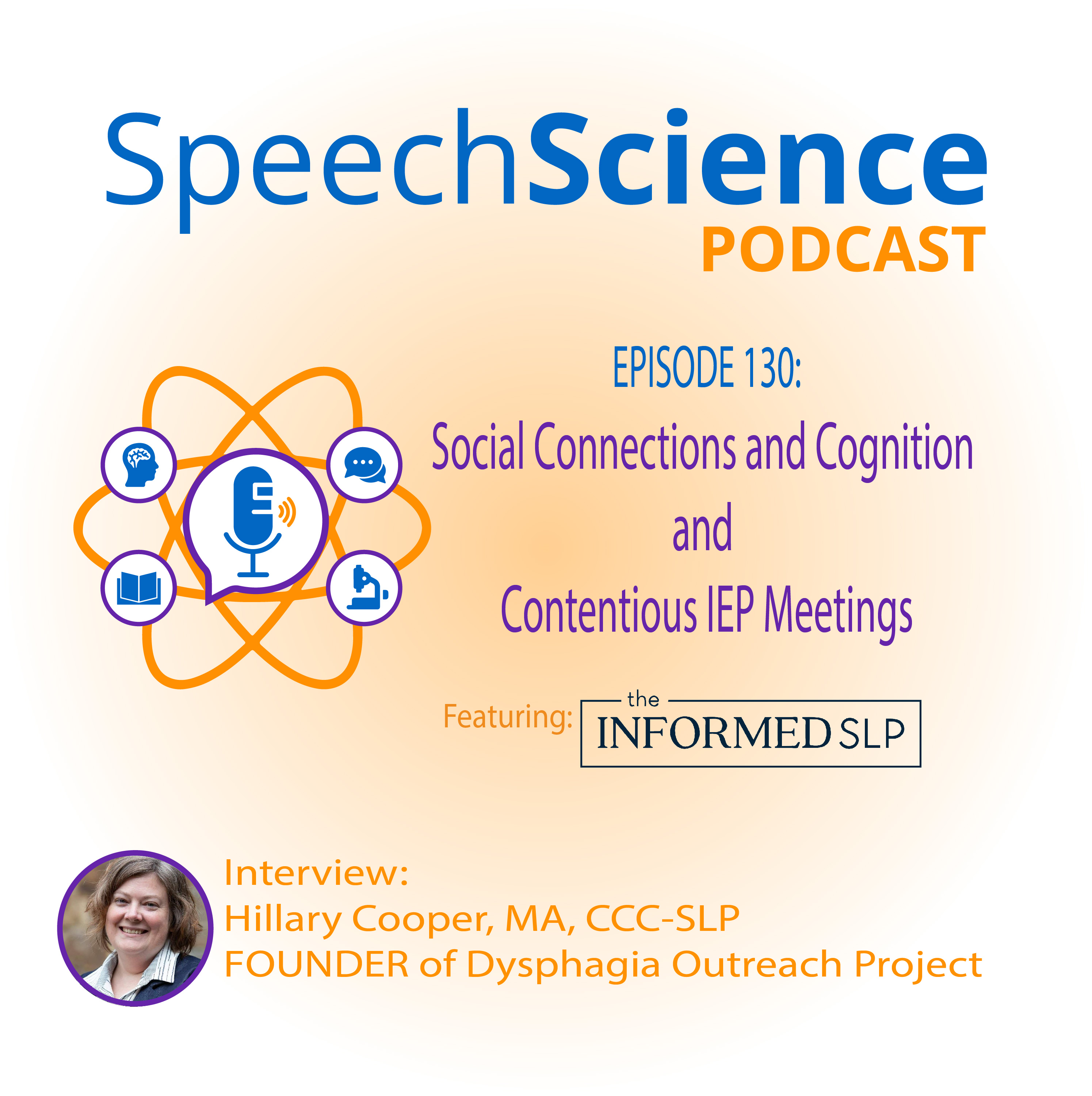 After taking a few weeks off following the elections, Matt, Michael, and Michelle come back together.  The group discusses the ordeal of voting in their individual precincts.  Matt is coming to terms with his reports being too long checking in at over 12 pages.  Michelle and her family were enjoying the unseasonable warm weather in the beginning of November.  Michael has noticed an increase in virtual cases as Covid numbers increase near his clinic.                      
On today's show, we discuss the link between diverse social connections and cognition, how to handle contentious IEP meetings, and we sit down with the Dysphagia Outreach Program.  This week's Informed SLP looks at.  We also look at our SSPOD Shoutouts and Due Process.  The weekly news headlines return and the ASHA spotlight looks at their media awards.    
The Discord is up and ready for people to interact with the crew 24/7 with a new website, www.discord.speechsciencepodcast.com.
SSPOD Shoutout: Do you know an SLP who deserves a digital fist bump or shout out?  We want to know your #SSPODSHOUTOUT, which is recognition for someone doing something awesome somewhere.  Martin Addison, 44, speech pathologist from Waldwick, NJ worked at St. Joseph's University Medical Center, where he specialized in the evaluation and treatment of dysphagia passed away due to complications from Covid. 
SSPOD Due Process: Your opportunity to message us about a problem in your area that you would like us to talk about, use the #SSPODDUEPROCESS.  This week, a question about why we have to do both progress reports and quarterly reports for students on an IEP.  What do we gain from writing up a progress report every 4.5 weeks?
Topic #1:    The link between social connections and cognition continues to be explored.  Does isolation make out patient's cognition skills decline or do social skills decline because of a cognition decline?     
Topic 2: IEP meetings can be very easy when everything goes right.  But when things go wrong, they can be very contentious.  The group discuss ways to make IEP meetings work a bit easier.    
The Informed SLP: A spooky look into the world of Oral Motor Mysteries.
ASHA Spotlight: The Yearly Media Awards, but Speech Science was not nominated!
Contact
Email: speechsciencepodcast@gmail.com
Voicemail: (614) 681-1798
Discord: https://discord.speechsciencepodcast.com
Speech Science Stuff: http://merchandise.speechsciencepodcast.com/
New Episode and Interact here:
podcast.speechsciencepodcast.com
Support
Patreon – https://www.patreon.com/speechsciencepodcast
Rate and Review:
https://podcasts.apple.com/us/podcast/speechscience-org-podcast/id1224862476?fbclid=IwAR3QRzd5K4J-eS2SUGBK1CyIUvoDrhu8Gr4SqskNkCDVUJyk5It3sa26k3Y&ign-mpt=uo%3D8&mt=2
Credits
Intro Music: Please Listen Carefully by Jahzzar is licensed under a Attribution-ShareAlike License.
Bump Music: County Fair Rock, copyright of John Deku, at soundcloud.com/dirtdogmusic
The Informed SLP: At The Count by Broke For Free is licensed under a Creative Commons Attribution License
Closing Music: Slow Burn by Kevin MacLeod is licensed under a Creative Commons Attribution License.
Show Links
The Informed SLP:
https://www.theinformedslpmembers.com/ei-reviews/spooky-speech-and-frightful-feeding-an-oral-motor-mystery
https://content.iospress.com/articles/journal-of-neuromuscular-diseases/jnd190436
https://www.tandfonline.com/doi/abs/10.1080/09638288.2020.1788179?journalCode=idre20
https://link.springer.com/article/10.1007/s00455-020-10173-4
https://www.mdpi.com/2077-0383/9/8/2652
Interview – Dysphagia Outreach Program 
https://www.dysphagiaoutreach.org/?fbclid=IwAR3mWorAax9IWWhcvladOWT0n_wlEP3jQa6mBU8AV6KqhNXuHWGfbyWEPGY
https://www.givingtuesday.org/
SSPOD Shoutout
https://twitter.com/Cleavon_MD/status/1324682851166547970?s=20&fbclid=IwAR0EOhSxjX2tevdYb4P_cvNHCtB4Wm-U8U7uGV_OrQVs2r7wZYtut6ObX4Q
https://twitter.com/Cleavon_MD/status/1324187572503941121?s=20&fbclid=IwAR1CI2y5Ux3XwXLJBdsOvkH_S-elFgwsAn-0eSKR9bHByQgCtkdDHtsWwCc
Social Connections and Cognition
https://www.miragenews.com/two-way-influence-between-cognition-and-social-connection-outside-home/
https://cheba.unsw.edu.au/?utm_source=miragenews&utm_medium=miragenews&utm_campaign=news
Contenious IEP Meetings:
https://leader.pubs.asha.org/do/10.1044/2020-1028-chellenging-ieps/full/
Headlines!
https://www.dailyherald.com/news/20201108/constable-wheaton-woman-puts-the-able-in-fashionable
https://weartv.com/news/local/florida-man-with-down-syndrome-competes-in-ironman-triathlon
https://sports.yahoo.com/robert-pattinson-batman-surprise-fan-144925861.html?guccounter=1
ASHA Media Awards:
https://leader.pubs.asha.org/do/10.1044/2020-1030-asha-media-champs/full/
https://www.asha.org/News/2020/ASHA-Announces-2020-Media-Award-Recipients/
Speech Science Powered by: You!