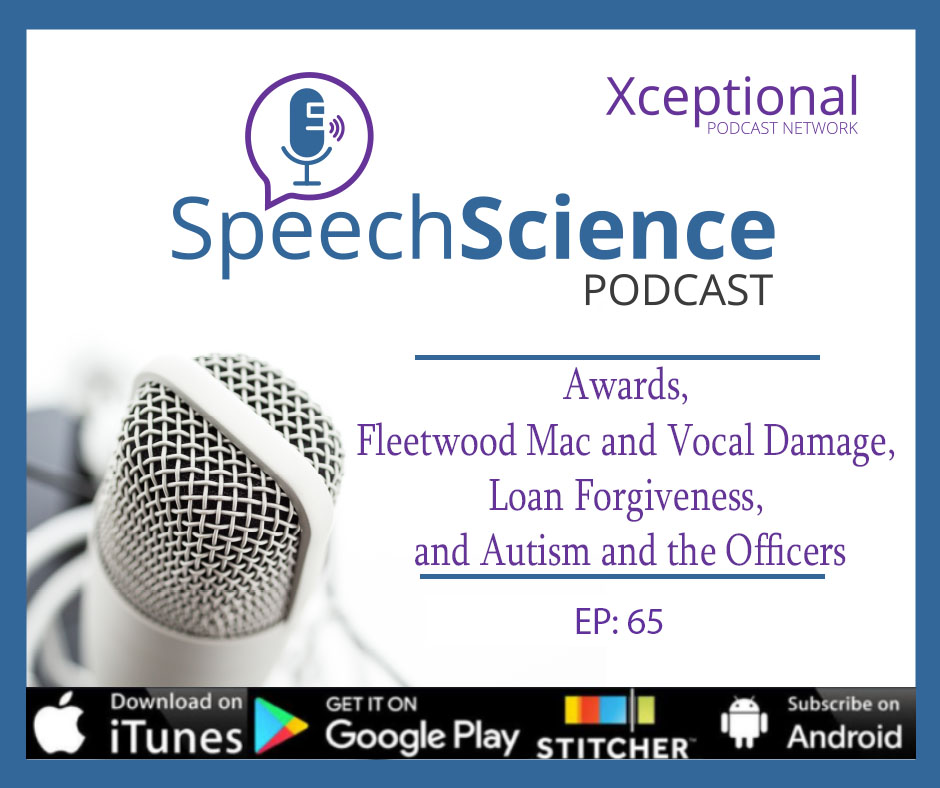 Episode 65: This week the crew continue to make their way towards the end of the school year.  Matt was nominated as chosen as an OSLHA Fellow.  Michael continues to fine tune his research.  Michelle tracks down her licensure.  Are you part of the small percentage that has gotten a loan forgiven?  ASHA has started to help SLPs get loan forgiveness.  Fleetwood Mac Guitarist went in for emergency heart surgery and came out with vocal cord damage.  How common is this?  A Chicago man with autism was almost arrested in a hospital, but instead the officers sang and danced with him. 
Email: speechscience2018@gmail.com
Voicemail: (614) 681-1798
New Episode and Interact here:
Https://Podcast.speechscience.org
https://www.speechsciencepodcast.com
Patreon
https://www.patreon.com/MWHProduction
Rate and Review:
https://itunes.apple.com/us/podcast/speechscience-org-podcast/id1224862476?mt=2&ign-mpt=uo%3D8
ASHA Fights for Your Right, to Forgive Loans
https://leader.pubs.asha.org/doi/10.1044/leader.AAG.24012019.34?fbclid=IwAR1_jqdGHRzhc8focI6MqFrxoXXloorprU2OUhO5TJLOsl1wEOBa020-TLY
https://studentaid.ed.gov/sa/repay-loans/forgiveness-cancellation/public-service
Fleetwood Mac Guitarist with Vocal Damage
https://www.rollingstone.com/music/music-news/lindsay-buckingham-heart-surgery-fleetwood-mac-792212/?fbclid=IwAR29O4s915Rh4MwYSSGFTVCLDnxpEzsnr3GwuIDkULJ-CWflb7avDaFy3nI
https://www.annalsthoracicsurgery.org/article/S0003-4975(10)63312-7/pdf
https://www.ncbi.nlm.nih.gov/pmc/articles/PMC4239699/
Go Your Own Way
https://www.youtube.com/watch?v=6ul-cZyuYq4
Chicago Man with Autism and the Officers who Helped Him
https://www.chicagotribune.com/news/columnists/schmich/ct-met-schmich-walker-autistic-20190205-story.html?fbclid=IwAR3t_LAwbeHAtoYI_5RUcPAQ8HRmpYIfv9NzapeBeWBvYqZC1ZmrVmLRuFE
Striking SLPs
https://www.denverpost.com/2019/02/11/denver-public-schools-strike-disabled-teachers/
Sign Language and the Town
https://www.bostonglobe.com/metro/2019/02/07/farragher/TEREscjAx7jPNA7RP1IQoI/story.html?event=event25&fbclid=IwAR0YcvzX5eGocuop1F3PsEtnIDaEBvORp0egmyv2Efbq1cpP7R6qGRvtXZI
OSLHA Awards for Matt
https://www.ohioslha.org/awards-recognitions/
Intro Music: Please Listen Carefully by Jahzzar is licensed under a Attribution-ShareAlike License.
Bump Music: The Spellbreaker by Tri-Tachyon is licensed under a Attribution License.
Closing Music: Slow Burn by Kevin MacLeod is licensed under a Creative Commons Attribution License.
Speech Science Powered by:
Pearson provides a variety of assessment and intervention materials for speech and language pathologists, audiologists, and related practitioners, which can lead to greater insights, better decisions, and successful outcomes for children and adults. Our respected products include the PPVT™-5, EVT™-3, GFTA-3, GFTA-3 Spanish, KLPA-3, CELF®-5, and PLS-5.