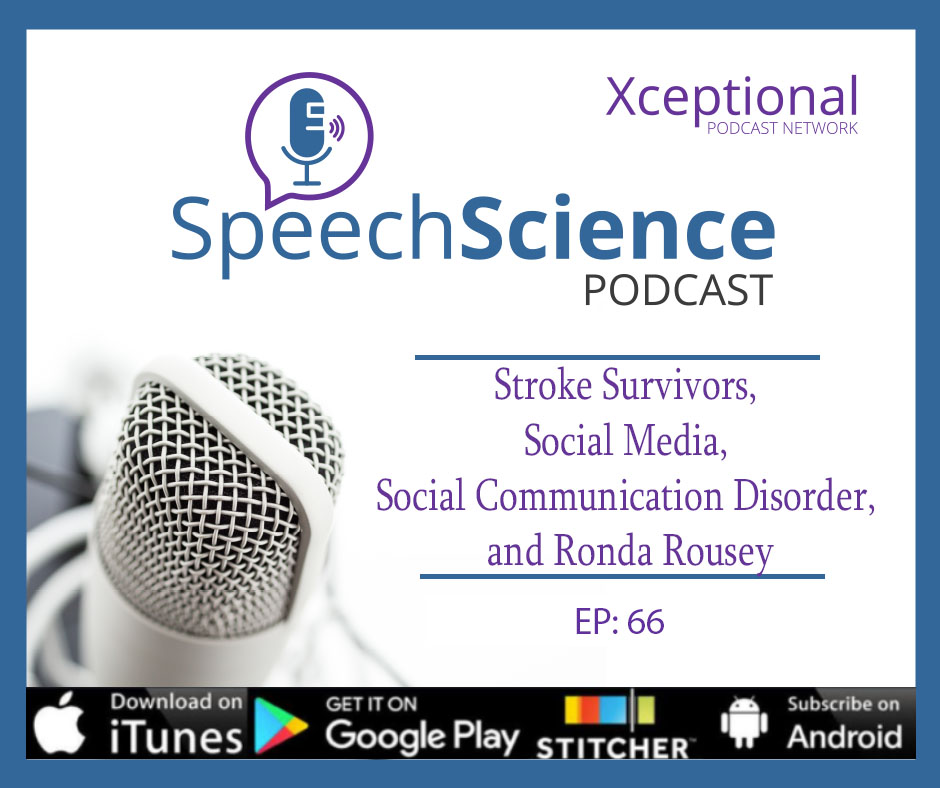 Episode 66: The new website has launched. It is www.speechsciencepodcast.com and its with the other wonderful shows of the XPN. Matt, Michael, and Michelle worked during their three day weekends. Stroke survivor Rosemary Brown stated she felt lost when she came home from the hospital. What can we do as therapists to aide patients as they transition home? Our scope of practice continues to grow larger and larger, however, are we missing social communication disorders? An ASHA article gives insight how to address this. We post on Twitter, Facebook, and others. But what should or should we not be posting on social media? The baddest woman on earth, Ronda Rousey, sits on top of the WWE title landscape. However, shes been getting "negative heat" over her promos. How does she over come her motor speech disorder?
Email: speechscience2018@gmail.com
Voicemail: (614) 681-1798
New Episode and Interact here:
www.speechsciencepodcast.com
podcast.speechsciencepodcast.com
http://podcast.speechsciencepodcast.com
Patreon
https://www.patreon.com/MWHProduction
Rate and Review:
https://itunes.apple.com/us/podcast/speechscience-org-podcast/id1224862476?mt=2&ign-mpt=uo%3D8
Show Links
Stroke Survivor
https://www.expressandstar.com/news/uk-news/2019/02/18/stroke-survivor-felt-lost-when-sent-home-from-hospital/?fbclid=IwAR32LWkH0e4bDADxtsAgNq5xZd1fK5Sn1ocAPn3f9XGLH0-KL58zXiopYhs
Social Communication Disorder
https://leader.pubs.asha.org/doi/10.1044/leader.SCM.23042018.38?fbclid=IwAR3Tkk7rBU8x5KHHFY4Xa9MnBe6V9thcuCmSIUHDr0vNWc-mEqYo5LwA8Ro
Facebook is Social Media
https://leader.pubs.asha.org/doi/10.1044/leader.AAG.24022019.36?fbclid=IwAR3EA04CT9QMeylvn-6swgSIuctxEzex7Em1mUG_KCRaTYDMRVTYrfshJOY
Ronda Rousey
https://www.fightful.com/wrestling/ronda-rousey-reveals-she-grew-motor-speech-disorder?fbclid=IwAR2BErKTNSrlWqq8id48ddW_2j7sKHTYmf1gol9pg4u3Aosln1P8x1XWrU8
Revenge of the Sith Order 66
https://www.youtube.com/watch?v=5c7jNYpPFzE
Used in fair use
Route 66, Chuck Berry
https://www.youtube.com/watch?v=tg2EbJy-9dc
Used in fair use
Intro Music: Please Listen Carefully by Jahzzar is licensed under a Attribution-ShareAlike License.
Bump Music: The Spellbreaker by Tri-Tachyon is licensed under a Attribution License.
Closing Music: Slow Burn by Kevin MacLeod is licensed under a Creative Commons Attribution License.
Speech Science Powered by:
Pearson provides a variety of assessment and intervention materials for speech and language pathologists, audiologists, and related practitioners, which can lead to greater insights, better decisions, and successful outcomes for children and adults. Our respected products include the PPVT™-5, EVT™-3, GFTA-3, GFTA-3 Spanish, KLPA-3, CELF®-5, and PLS-5.