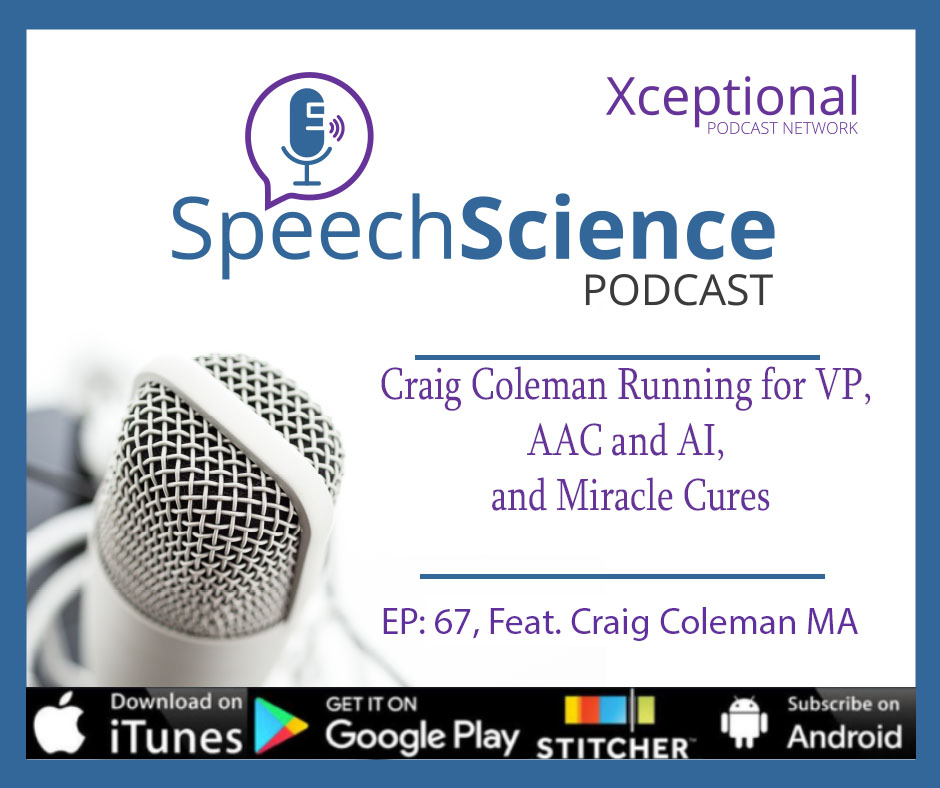 Episode 67: On this week's show, Michael is recovering from traveling to Denver and back, Michelle has her Kentucky Licensure, and Matt wraps up his coaching commitments.  Matt had an opportunity to sit down with Craig Coleman as he is running for VP of Planning.  Craig speaks about ABA and Speech and Language therapy, advocating for our profession, and how he sees ASHA can improve its image.  Artificial Intelligence continues to improve and learn.  Can it learn enough to help our patients with disabilities?  Is there a link between apraxia and physical differences in the brain?  Lastly, how does the hope of a miracle cure for autism impact the work we do?
Email: speechsciencepodcast@gmail.com
Voicemail: (614) 681-1798
New Episode and Interact here:
podcast.speechsciencepodcast.com
Patreon
https://www.patreon.com/MWHProduction
Rate and Review:
https://itunes.apple.com/us/podcast/speechscience-org-podcast/id1224862476?mt=2&ign-mpt=uo%3D8
Show Links
How People with Disabilities Are Using AI to Improve Their Lives
https://www.pbs.org/wgbh/nova/article/people-with-disabilities-use-ai-to-improve-their-lives/?fbclid=IwAR3A5OJEz_93LpEKYtgTeO65YLXEnT_uicjfGo7gsq9CmAL3_F208zLW92U
http://www.voiceitt.com/why-voiceitt.html
Breakthrough in Apraxia
https://m.medicalxpress.com/news/2019-02-breakthrough-severe-child-speech-impediment.html?fbclid=IwAR2mTLzJnjvvqYPxaW4S8TJTy-DX1iuTZ_jEDYS0B636ibjiYWKN-3kDUSM
Miracle Cure for Autism
https://www.nemechekconsultativemedicine.com/nemechek-protocol/
ASHA Elections
https://www.asha.org/About/governance/election/Board-of-Directors-Candidates/
Intro Music: Please Listen Carefully by Jahzzar is licensed under a Attribution-ShareAlike License.
Bump Music: The Spellbreaker by Tri-Tachyon is licensed under a Attribution License.
Closing Music: Slow Burn by Kevin MacLeod is licensed under a Creative Commons Attribution License.
Speech Science Powered by:
Pearson provides a variety of assessment and intervention materials for speech and language pathologists, audiologists, and related practitioners, which can lead to greater insights, better decisions, and successful outcomes for children and adults. Our respected products include the PPVT™-5, EVT™-3, GFTA-3, GFTA-3 Spanish, KLPA-3, CELF®-5, and PLS-5.