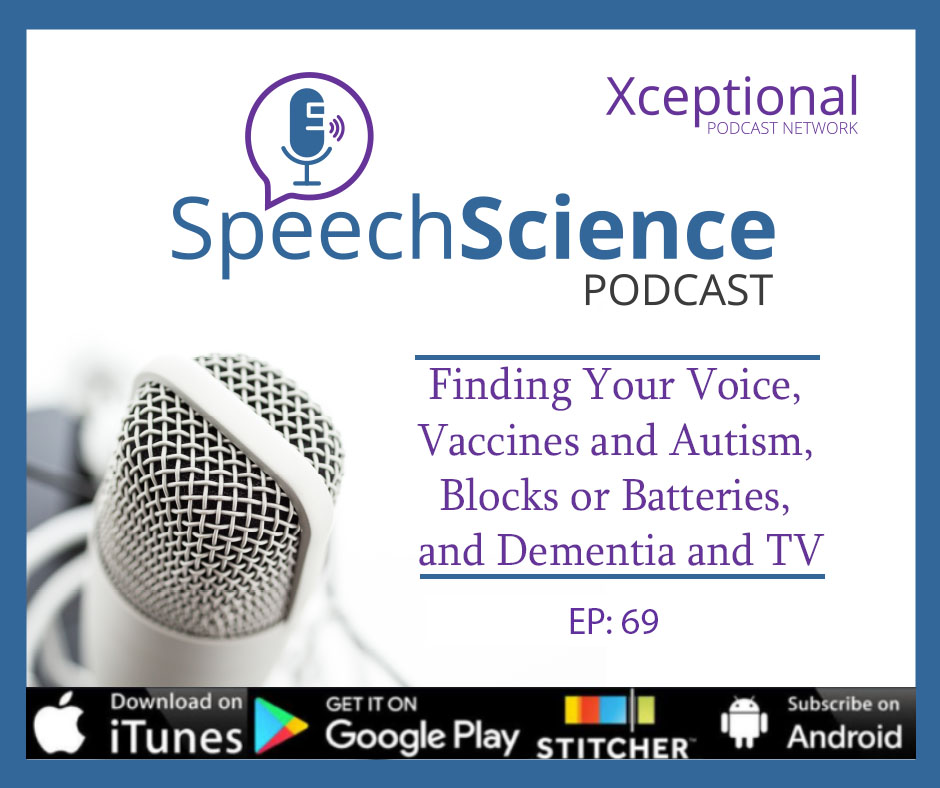 Episode 69: Finding Your Voice, Vaccines and Autism, Blocks or Batteries, and Dementia and TV
On this week's episode, Matt has returned from OSLHA with the fellow of the association award, Michael's study moves forward, and Michelle returns to her passion in volleyball.  Joining the trio this week is Dr. Tiffany Hogan of SAIL.  They discuss the importance of having a voice that matches the AAC or Communication device user.  The largest study to look at the potential link between the measles vaccine and autism found that there is no link.  Batteries or bricks?  How do we grow brain power?  The answer may be in the simple objects for children and 7 hobbies to help the adult brain.  Lastly, how much TV is too much TV?  Could watching TV for 3 and half hours a day result in lower brain power? 
Email: speechsciencepodcast@gmail.com
Voicemail: (614) 681-1798
New Episode and Interact here:
podcast.speechsciencepodcast.com
 Patreon
https://www.patreon.com/MWHProduction
Rate and Review:
https://itunes.apple.com/us/podcast/speechscience-org-podcast/id1224862476?mt=2&ign-mpt=uo%3D8
Show Links
BBC One, The One Show: Finding My Voice
https://www.facebook.com/BBCOne/videos/258584498209291/?v=258584498209291&t=2
**Used under Fair Use for Educational Purposes**
Rupal Patel
https://bouve.northeastern.edu/bchs/directory/rupal-patel/
Avaz
Vaccines and Autism
https://consumer.healthday.com/cognitive-health-information-26/autism-news-51/largest-study-ever-finds-no-link-between-measles-vaccine-autism-743411.html?fbclid=IwAR2mD_XLirft_MTW0srEr4RbUeRtvq6gHdSkq9ACZK1O0hGmD0EXX6K4_Jc
https://www.nytimes.com/2019/03/11/nyregion/measles-vaccination-laws-ny.html
Blocks and Batteries
http://www.thespeechdynamic.com/why-blocks-beat-batteries/?fbclid=IwAR2MCcNVPoRW6WhwsZFL20bWnVJ0lCG8T4YrGB-2Gp1-bYfNIr8XgdhefQc
Hobbies to Make You Smarter
https://trulymind.org/science-reveals-7-hobbies-that-make-you-smarter/?fbclid=IwAR1f30GyOVQRA6wlW8SFYOvaGzTU434cDB5CqmXVACIj6OW9qNJ0didk1i8
TV and Dementia
https://www.express.co.uk/life-style/health/1095981/dementia-care-causes-watching-tv-three-and-a-half-hours-daily-study?fbclid=IwAR0btd1O2Kd3cDDJPdVcImSwI3RgdIAgQWDTtnJY4wA5mKVPzXzOOzUFq2M
ASHA 21 Day Challenge
https://www.asha.org/About/news/21-Day-Challenge/
Dr. Tiffany Hogan
https://www.mghihp.edu/research-research-labs-speech-and-language-sail-literacy-lab/speech-and-language-sail-literacy-lab
https://www.mghihp.edu/research-research-labs-speech-and-language-sail-literacy-lab/seehearspeak-podcast
Intro Music: Please Listen Carefully by Jahzzar is licensed under a Attribution-ShareAlike License.
Bump Music: The Spellbreaker by Tri-Tachyon is licensed under a Attribution License.
Closing Music: Slow Burn by Kevin MacLeod is licensed under a Creative Commons Attribution License.
Speech Science Powered by:
Pearson provides a variety of assessment and intervention materials for speech and language pathologists, audiologists, and related practitioners, which can lead to greater insights, better decisions, and successful outcomes for children and adults. Our respected products include the PPVT™-5, EVT™-3, GFTA-3, GFTA-3 Spanish, KLPA-3, CELF®-5, and PLS-5.