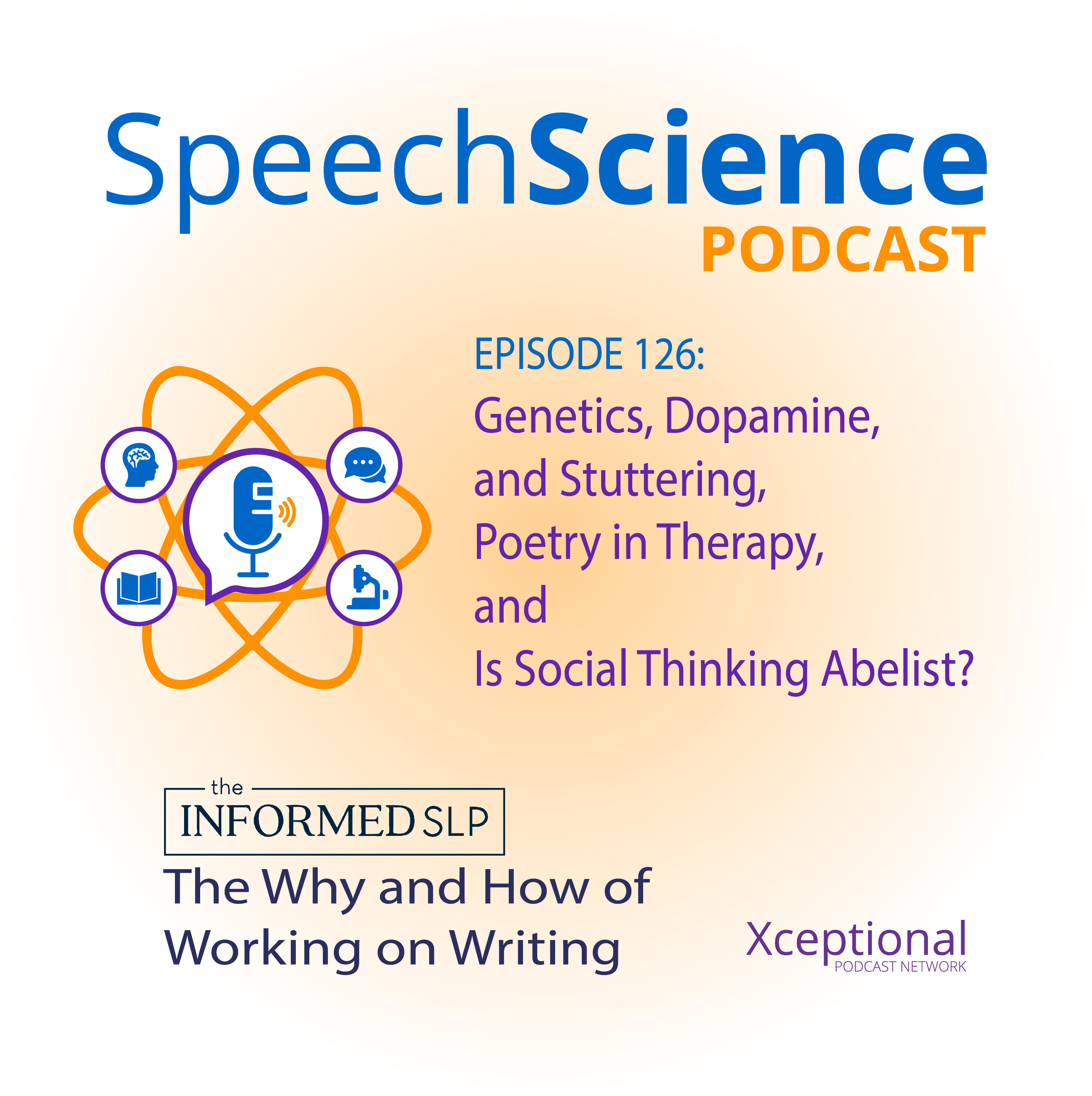 After taking a week off for Labor Day the group returns to the airwaves.  Therapy conversations are happening in the group's discord, jump in and let your voice be heard.  Michael continues to transition to face to face therapy in his clinic has proven to be great for him as much as it has been for his clients.  Michelle must move, again, less than a month in at her current location.  However, on the positive side, they hadn't unpacked everything yet.  Matt has completed his last CEU hour needed to get his ACE award and he prepares to enter the delivery room for the latest edition to his family.               
On today's show, we discuss the impact genetics and dopamine have on stuttering, the use of poetry in the therapy setting, and we look at Social Thinking and break down if it's too ableist. We also look at the news headlines including Big Brother and Blackout Drinking.  This week's Informed SLP looks at the why and how of working on writing.  We also look at our SSPOD Shoutouts and Due Process.  
The Discord is up and ready for people to interact with the crew 24/7 with a new website, www.discord.speechsciencepodcast.com.
SSPOD Shoutout: Do you know an SLP who deserves a digital fist bump or shout out?  We want to know your #SSPODSHOUTOUT, which is recognition for someone doing something awesome somewhere.  Sandy Bennett is most deserving of this week's SSPODshoutout.  Sandy retires from speech and language therapy after contributing to it for 50 years.       
SSPOD Due Process:  Do you have a complaint or need to vent, then you want to participate in the #SSPODDUEPROCESS. This week, an anonymous listener sends in the following situation.  A high school student working on /r/ and /l/ says the do not bother them, but teachers report that the student does not volunteer information and has cried during her presentations in March because someone asked her to repeat a phrase.  The therapist states the student is unmotivated in therapy.  Should therapy be continued or move to dismissal?
Topic #1:    Researchers look to have identified a possible genetic link for stuttering and a potential link to dopamine receptors.  The next step is to trial a synthetic dopamine drug.  What impact does this have on therapy and does this mean we are just treating the symptoms of dysfluency?  
Topic #2: Inferential and figurative language can be difficult to target in a therapy setting.  One SLP looks at adding Poetry to her therapy lessons. 
Topic #3:   A study from an ABA group has come up again questioning the validity of the Social Thinking Curriculum.  Could there be some truth to the ABA concerns about evidence?  Should we be using Social Theory to cover up communication deficits or should we follow a less ableist look at Pragmatic Language?
The Informed SLP: The Why and How of Working on Writing. Working on writing is an essential part of supporting our clients' literacy development and research to support it.
Contact
Email: speechsciencepodcast@gmail.com
Voicemail: (614) 681-1798
Discord: https://discord.speechsciencepodcast.com
New Episode and Interact here:
podcast.speechsciencepodcast.com
Support
Patreon – https://www.patreon.com/speechsciencepodcast
Rate and Review:
https://podcasts.apple.com/us/podcast/speechscience-org-podcast/id1224862476?fbclid=IwAR3QRzd5K4J-eS2SUGBK1CyIUvoDrhu8Gr4SqskNkCDVUJyk5It3sa26k3Y&ign-mpt=uo%3D8&mt=2
Credits
Intro Music: Please Listen Carefully by Jahzzar is licensed under a Attribution-ShareAlike License.
Bump Music: County Fair Rock, copyright of John Deku, at soundcloud.com/dirtdogmusic
The Informed SLP: At The Count by Broke For Free is licensed under a Creative Commons Attribution License
Closing Music: Slow Burn by Kevin MacLeod is licensed under a Creative Commons Attribution License.
Show Links
The Informed SLP:
https://www.theinformedslpmembers.com/reviews/the-why-and-how-of-working-on-writing
https://www.tandfonline.com/doi/abs/10.3109/13668250.2019.1698286?journalCode=cjid20
https://journals.sagepub.com/doi/10.1177/0022219420917338
https://journals.sagepub.com/doi/10.1177/0731948717701260
SSPOD Shoutout
https://www.timesrepublican.com/news/todays-news/2020/08/speech-language-pathologist-retires-after-50-years/
Dopamine and Stuttering
https://www.smithsonianmag.com/science-nature/what-neuroscientists-are-discovering-about-stuttering-180975730/
https://clinicaltrials.gov/ct2/show/NCT04492956?term=ecopipam&draw=2&rank=11
Poetry in the Therapy Room
https://leader.pubs.asha.org/do/10.1044/2020-0911-poetry-to-transition-adulthood/full/
Social Thinking
https://www.ncbi.nlm.nih.gov/pmc/articles/PMC4893033/#:~:text=Overview%20of%20Social%20Thinking,-Social%20Thinking%C2%AE&text=Social%20Thinking%C2%AE%20also%20incorporates,therapy%20(Winner%202007a%2C%20p.&text=Proponents%20of%20ABA%20define%20behavior,thought%20process)%20of%20the%20individual.
https://therapistndc.org/therapy/non-ableist-pragmatic-language-therapy/?fbclid=IwAR3GltEfPNeqrwHovlB5UENZZ_9DkYBymdYDDmjFUHv6ynUfqK3nyNVtTUs
Headlines:
https://www.healthline.com/health-news/blackout-drinking-may-increase-risk-of-dementia#Majority-reported-passing-out-from-drinking
https://www.republicworld.com/entertainment-news/web-series/big-brother-all-stars-cast-under-fire-after-mocking-ian-terry-autism.html
Speech Science Powered by: You!