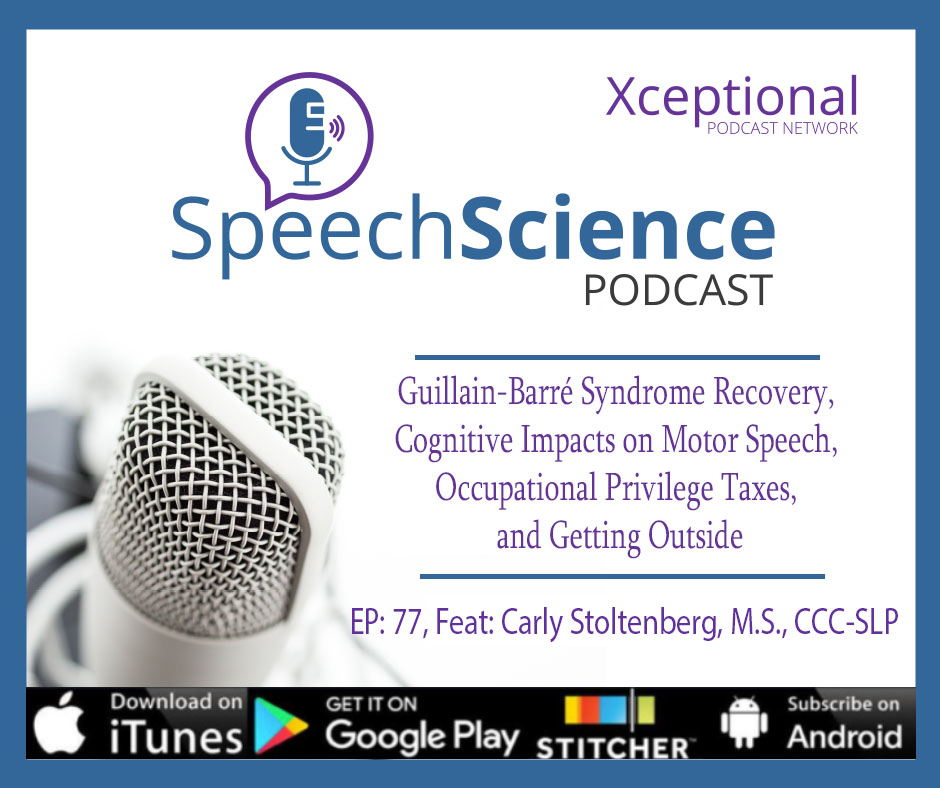 Episode 77: Guillain-Barré Syndrome Recovery, Cognitive Impacts on Motor Speech, Occupational Privilege Taxes, and Getting Outside
Matt, Michael, and Michelle are all back in the chairs this week.  Matt had a birthday party at Chuck E Cheese, Michael finally saw Avengers: Endgame, and Michelle is preparing to work with horses in therapy.    What impact does cognitive load have on motor speech production?  Increased cognitive processing can impede the speed in which motor production happens.  The group discuss what this may look like in therapy.  Tennessee has recently repealed 22 million dollars in taxes by removing the $400 Occupational Privilege Tax for SLPs and AuDs.  How does our multiple licensures, accreditations, and associations affect our ability to practice. Lastly, your kids are spending too much time inside.  How long should they be outside?  Guillain-Barré syndrome is a rare neurological disorder in which the body's immune system mistakenly attacks part of its peripheral nervous system.  Carly Stoltenberg, M.S., CCC-SLP was working as an SLP for the past 20 years when at the age of 46 her live changed over-night.  She tells her story about being intubated, using AAC, and her recovery. 
Go Vote: https://www.asha.org/about/governance/election/
Email: speechsciencepodcast@gmail.com
Voicemail: (614) 681-1798
New Episode and Interact here:
podcast.speechsciencepodcast.com
Patreon
https://www.patreon.com/MWHProduction
Rate and Review:
https://itunes.apple.com/us/podcast/speechscience-org-podcast/id1224862476?mt=2&ign-mpt=uo%3D8
Show Links
Carly Stoltenberg
https://leader.pubs.asha.org/doi/full/10.1044/leader.FPLP.23092018.72
http://www.ebshealthcare.com/blogs/slp/2014/my-ebs-journey-carly-stoltenberg
https://www.facebook.com/groups/1057840921027306/?tn-str=*F&fref=gs&dti=1057840921027306&hc_location=group_dialog
Cognitive Load on Executive Functioning and Motor Speech
https://pubs.asha.org/doi/10.1044/2018_JSLHR-S-17-0222
https://www.psytoolkit.org/experiment-library/stroop.html
Occupational Professional Licensure Taxes
https://wreg.com/2019/05/02/22m-tax-break-for-15-professions-heads-to-tennessee-gov/
https://www.forbes.com/sites/patrickgleason/2019/05/02/if-texas-is-to-keep-up-with-tennessee-lone-star-state-lawmakers-will-need-to-step-it-up/#2e8498db4e36
Your Kids Need to be Outside
https://1000hoursoutside.com/1/post/2019/01/children-should-be-outside-for-4-6-hours-everyday.html?fbclid=IwAR1ojSggtiJB-evuN6CZwQ4ecBTz3S97wFQk3rJrAlTRIHefslgXK_33Dj4
https://www.amazon.com/Balanced-Barefoot-Unrestricted-Confident-Children/dp/1626253730/ref=sr_1_1?ie=UTF8&qid=1548304522&sr=8-1&keywords=balanced+and+barefoot
Red Nose Day
https://rednoseday.org/news/red-nose-day-campaign-returns-nbc-on-may-23-2019
Intro Music: Please Listen Carefully by Jahzzar is licensed under a Attribution-ShareAlike License.
Bump Music: County Fair Rock, copyright of John Deku, at soundcloud.com/dirtdogmusic
Closing Music: Slow Burn by Kevin MacLeod is licensed under a Creative Commons Attribution License.
Speech Science Powered by: You!