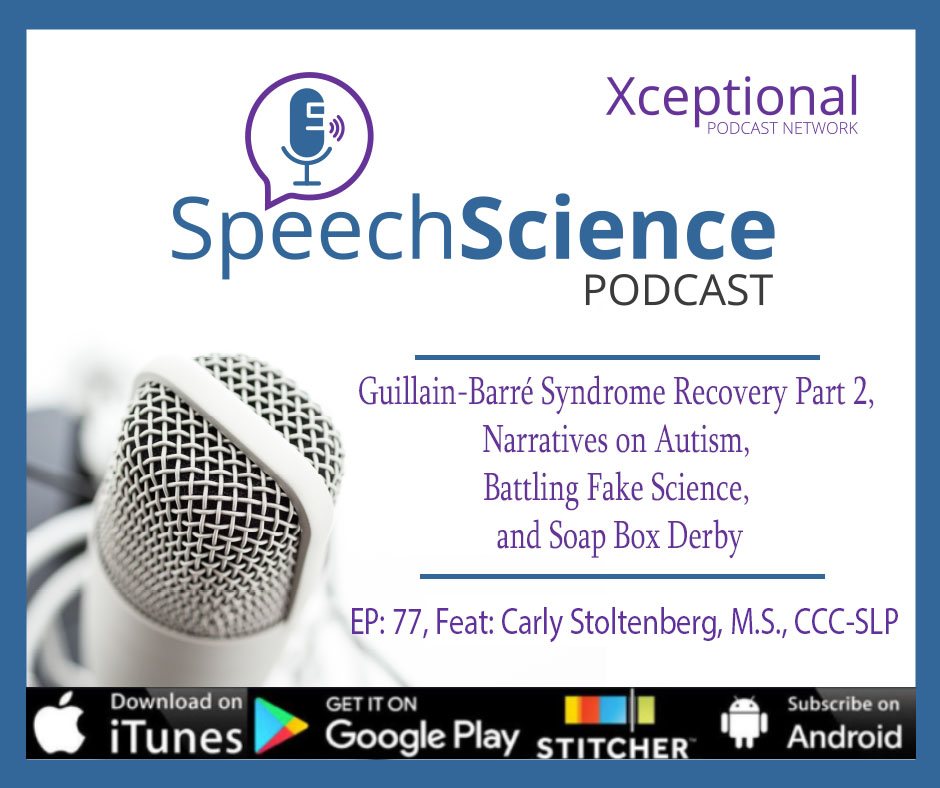 Episode 78: Guillain-Barré Syndrome Recovery Part 2, Narratives on Autism, Battling Fake Science, and Soap Box Derby
On this week's episode, Matt recounts his car accident while doing home health care and what it was like in the back of a police car, Michael traveled back to the big apple for family before his end of year evaluations kick in, and Michelle got to celebrate her first Mother's Day as a mom and prepares for therapy training with horses.    Do you use people first language?  According to a recent study, people with autism may prefer to be called an autistic person.  How does that change your therapy mindset?  The measles outbreak has come on the backs of questionable and false science leading to anti-vaccine movements.  How do we in the clinical setting combat false science?  Lastly, many kids dream of driving a soap box derby car to victory.  One town is allowing children and young adults with disabilities and opportunity to achieve this dream for themselves. 
Guillain-Barré syndrome is a rare neurological disorder in which the body's immune system mistakenly attacks part of its peripheral nervous system.  Carly Stoltenberg, M.S., CCC-SLP was working as an SLP for the past 20 years when at the age of 46 her live changed over-night.  On part 2 of her interview, Carly talks about recovery and what her new normal looks like.   How do you handle not being able to communicate when your job was teaching others to communicate?  What would you say to a doctor who told you your recovery chances were low?  Carly handles it like a champ!
Go Vote: https://www.asha.org/about/governance/election/
Email: speechsciencepodcast@gmail.com
Voicemail: (614) 681-1798
New Episode and Interact here:
podcast.speechsciencepodcast.com
Patreon – A Chance for Dinner at ASHA
https://www.patreon.com/speechsciencepodcast
Rate and Review:
https://itunes.apple.com/us/podcast/speechscience-org-podcast/id1224862476?mt=2&ign-mpt=uo%3D8
Show Links
Carly Stoltenberg
https://leader.pubs.asha.org/doi/full/10.1044/leader.FPLP.23092018.72
http://www.ebshealthcare.com/blogs/slp/2014/my-ebs-journey-carly-stoltenberg
https://www.facebook.com/groups/1057840921027306/?tn-str=*F&fref=gs&dti=1057840921027306&hc_location=group_dialog
Narratives About Autism
https://pubs.asha.org/doi/10.1044/2018_AJSLP-18-0045?fbclid=IwAR3cbWxS3HK9La99SbTtF7uW-3h26C1KPeAiHAMOt4AsX1B0A6mCWTN4f_s
Battling Fake Science
https://www.cbsnews.com/news/mmr-vaccine-teaching-anti-vax-parents-to-trust-science/?fbclid=IwAR2aPX1kL6JqAzPpHl16cFgKbnlRexraQxLrC00efdQk6dnpVLlYZLQO9rI
Soap Box Derby Days
https://www.dailyprogress.com/news/state/soap-box-derby-includes-special-needs-division/article_1b0d40d6-7506-11e9-8269-3bbcfd3eb1b5.html?fbclid=IwAR3HFnS59CTuvsx5XRlsOWX-hsJeqB1VbeUkmnifxBOjvJHIGY4VJHF-TzM
Intro Music: Please Listen Carefully by Jahzzar is licensed under a Attribution-ShareAlike License.
Bump Music: County Fair Rock, copyright of John Deku, at soundcloud.com/dirtdogmusic
Closing Music: Slow Burn by Kevin MacLeod is licensed under a Creative Commons Attribution License.
Speech Science Powered by: You!