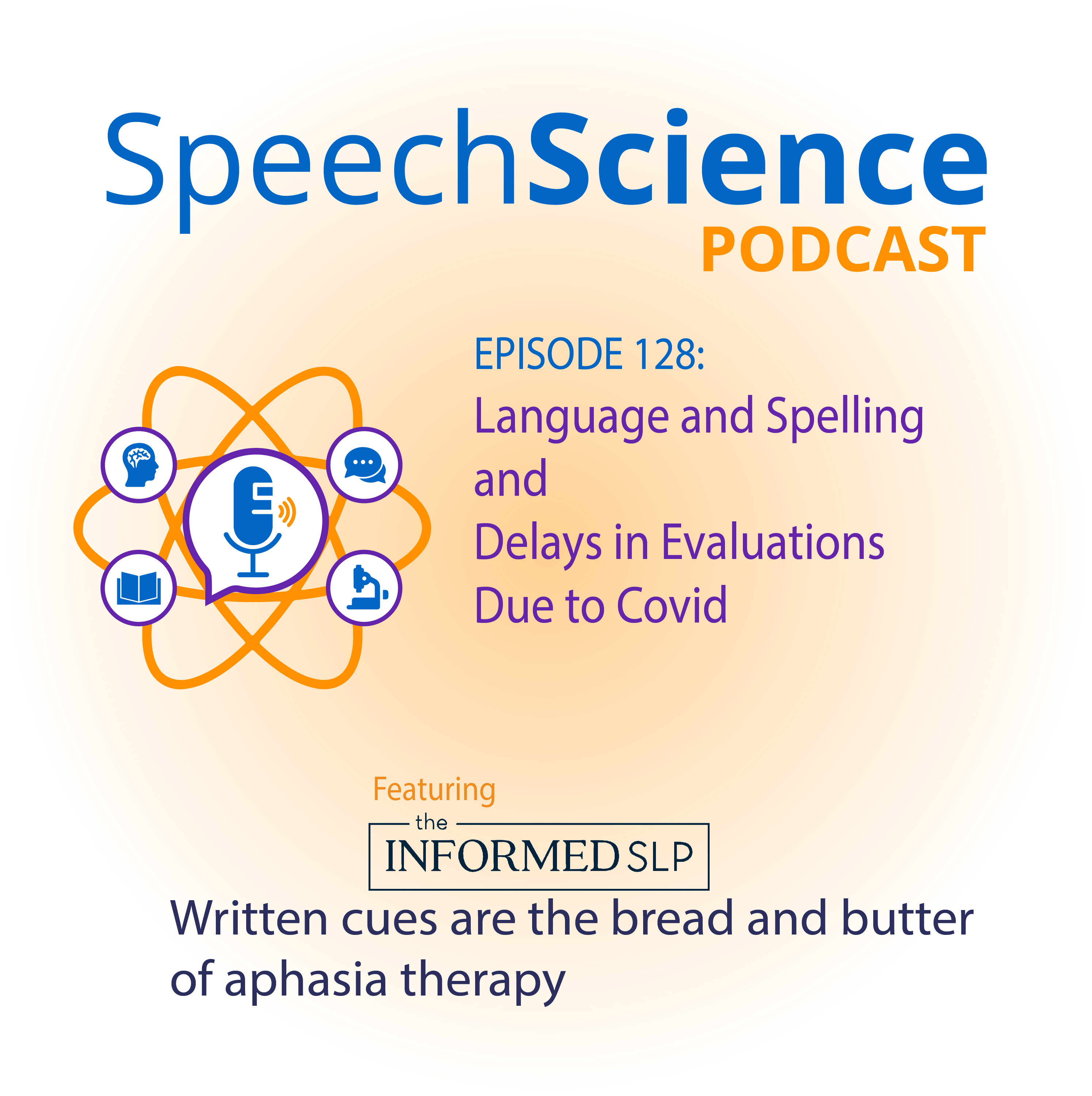 The whole group is back together this week.  Matt has a ton to unpack involving Cub Scout fundraisers (selfish self-promotion link below for Popcorn sales) and hikes, mandatory high school coach meetings, meeting Help Me Grow as a parent, and calling his local senators to fight for hearing aid insurance changes.  He was told a hearing aid for a child is considered cosmetic.  Michelle celebrates her eternal 24th birthday 10 years later by hiking across state lines and she is an aunt again for her 5th niece.  Michael spent the weekend with his nephews for the weekend.  His private practice has moved to about 50% in person and 50% tele- practice.  The group also responds to the news that Charlie Brown won't be airing on television this Halloween.                  
On today's show, we discuss the backlog of educational evaluations and waiting on legal rulings and the link between language and spelling.  This week's Informed SLP looks at.  We also look at our SSPOD Shoutouts and Due Process.  The weekly news headlines return and the ASHA spotlight looks at what they have put out for stuttering.    
The Discord is up and ready for people to interact with the crew 24/7 with a new website, www.discord.speechsciencepodcast.com.
SSPOD Shoutout: Do you know an SLP who deserves a digital fist bump or shout out?  We want to know your #SSPODSHOUTOUT, which is recognition for someone doing something awesome somewhere.  Bill Connors, a guru in our field has passed away.  Bill had a large presence on-line and was willing to reach out to help anyone who needed it in the Facebook groups he was part of.         
A second shout-out goes to Smiles for Inclusion.  They are offering up a virtual 5K marathon with the goal to raise funds that will be used to provide resources for the most vulnerable children with special needs living in impoverished communities in rural areas of Kenya and Ghana.
Topic #1:    Due to the immediate closures of schools in the springtime, many children went without evaluations.  The crew discuss the impact of not completing an evaluation has on timelines and the student's success.    
Topic 2: What should SLPs be doing with spelling in the classroom?  A new study looks at the indepth link between spelling and language.  
The Informed SLP: We all know the struggle of figuring out the "active ingredients" for aphasia therapy. We consider dosage, number of trials and sessions, home programs, aphasia type, treatment approach, stimuli, types of cues…but it's still hard to know what makes aphasia therapy work.
ASHA Spotlight: How do we educate someone on the impact of stuttering? ASHA has a tool-kit for that.    
Contact
Email: speechsciencepodcast@gmail.com
Voicemail: (614) 681-1798
Discord: https://discord.speechsciencepodcast.com
New Episode and Interact here:
podcast.speechsciencepodcast.com
Support
Patreon – https://www.patreon.com/speechsciencepodcast
Rate and Review:
https://podcasts.apple.com/us/podcast/speechscience-org-podcast/id1224862476?fbclid=IwAR3QRzd5K4J-eS2SUGBK1CyIUvoDrhu8Gr4SqskNkCDVUJyk5It3sa26k3Y&ign-mpt=uo%3D8&mt=2
Credits
Intro Music: Please Listen Carefully by Jahzzar is licensed under a Attribution-ShareAlike License.
Bump Music: County Fair Rock, copyright of John Deku, at soundcloud.com/dirtdogmusic
The Informed SLP: At The Count by Broke For Free is licensed under a Creative Commons Attribution License
Closing Music: Slow Burn by Kevin MacLeod is licensed under a Creative Commons Attribution License.
Show Links
The Informed SLP:
https://www.theinformedslpmembers.com/reviews-adults/written-cues-are-the-bread-and-butter-of-aphasia-therapy
https://www.tandfonline.com/doi/abs/10.1080/02687038.2020.1781419?journalCode=paph20
SSPOD Shoutout
https://www.aphasiatoolbox.com/?fbclid=IwAR193hmxVoB1rQIfzXAyP-dT5Wf-aIA74xQsjkyg0XSKYcg0TK_PwhF6Hio
https://www.facebook.com/events/348469779544631/
Special Education Backlog
https://www.bostonherald.com/2020/10/19/nearly-2000-boston-students-awaiting-special-education-assessments-due-to-backlog/
https://ny.chalkbeat.org/2020/10/19/21524233/new-york-state-changes-course-on-plan-to-address-backlog-of-special-education-cases
Language and Spelling
https://pubs.asha.org/doi/10.1044/2020_LSHSS-19-00009
Headlines!
https://leader.pubs.asha.org/do/10.1044/2020-0923-green-screen-telepractice/full/
https://leader.pubs.asha.org/do/10.1044/2020-0925-white-house-asl-interpreter-order/full/
https://www.consumeraffairs.com/news/apathy-could-be-an-indicator-of-dementia-study-finds-101920.html
https://www.rollcall.com/2020/10/20/speech-therapist-discusses-bidens-stutter-ahead-of-final-debate/?fbclid=IwAR37m3Leckccepl1ZIcMQEssPYu8q57ewGzvPsEErJBa_xbX_AQzONlNmOg
https://tribune.com.pk/story/2269020/video-gaming-as-a-child-related-to-improvements-in-memory
ASHA Stuttering Tool Kit:
https://www.asha.org/stuttering-toolkit/?fbclid=IwAR1X-FMZNQht7ChBaXo5E1HcDaHvL1R2qH63mk088D6JcyFwd1VXRhy4cJc
Speech Science Powered by: You!