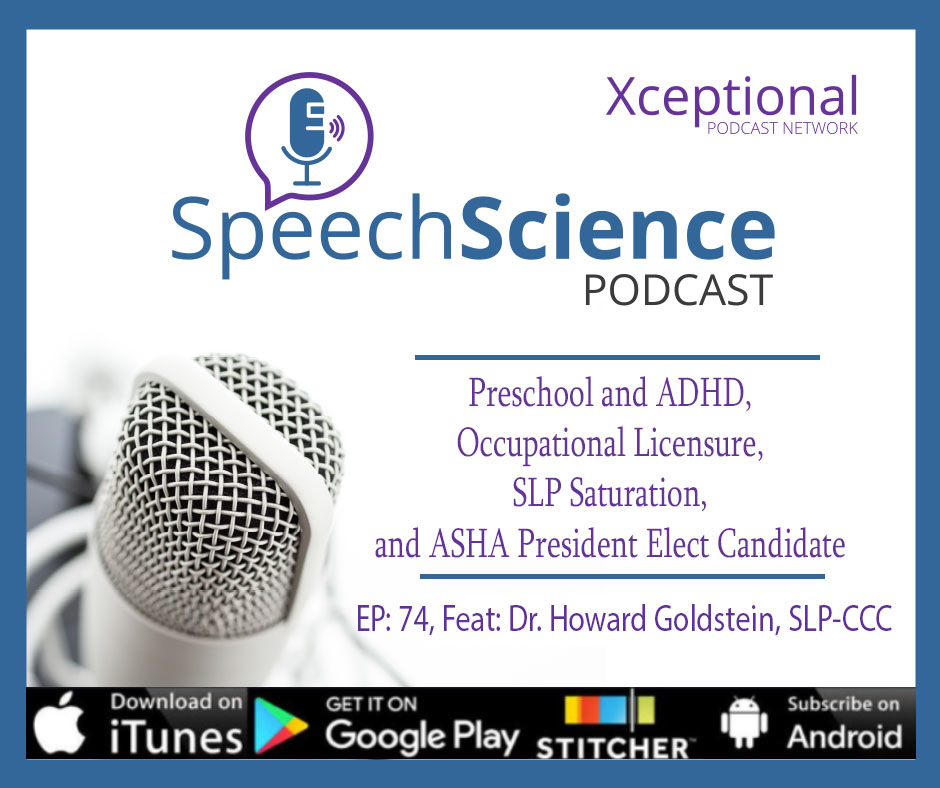 Episode 74:  Preschool and ADHD, Occupational Licensure, SLP Saturation, and ASHA President Elect Candidate Dr. Howard Goldstein, CCC-SLP
How young is too young for preschool?  Does sending a student to school too early lead to ADHD?  Would going to preschool for an extra year help with development of our students?  Studies show that an increased year in preschool can help children learn the soft skills needed for school.  Some states are looking at changing the Occupational Licensure requirements.  What does ASHA's recent announcement of joining the Professional Certification Coalition mean for those of us in these states?  Is your state oversaturated with SLPs?  If you find yourself negotiating for a new job, what do you need to do?  ASHA President-Elect Candidate Howard Goldstein came on air to talk about his future for the organization, what ASHA can do to improve its image with its SLPs and AuDs, the important of evidence based practice, and what he would like to accomplish in his 3 years. 
Go Vote: https://www.asha.org/about/governance/election/
Email: speechsciencepodcast@gmail.com
Voicemail: (614) 681-1798
 Patreon
https://www.patreon.com/MWHProduction
New Episode and Interact here:
podcast.speechsciencepodcast.com
Rate and Review:
https://itunes.apple.com/us/podcast/speechscience-org-podcast/id1224862476?mt=2&ign-mpt=uo%3D8
Show Links
Age and ADHD
https://leader.pubs.asha.org/doi/10.1044/leader.RIB4.24032019.16
https://www.cdc.gov/ncbddd/adhd/diagnosis.html
https://www.nejm.org/doi/10.1056/NEJMoa1806828
Occupational Licensure
https://leader.pubs.asha.org/doi/10.1044/leader.AN2.24042019.64
https://www.asha.org/Advocacy/Occupational-Licensure/
https://www.profcertcoalition.org/about-pcc
https://leader.pubs.asha.org/doi/10.1044/leader.SOS.24042019.44
State SLP Saturation
https://leader.pubs.asha.org/doi/10.1044/leader.AAG.24042019.28
Howard Goldstein
https://www.asha.org/About/governance/election/Howard-Goldstein/
https://www.ashfoundation.org/
Intro Music: Please Listen Carefully by Jahzzar is licensed under a Attribution-ShareAlike License.
Bump Music: County Fair Rock copyright of John Deku, at soundcloud.com/dirtdogmusic
Closing Music: Slow Burn by Kevin MacLeod is licensed under a Creative Commons Attribution License.
Speech Science Powered by:
Special Free Tools for Speech Science Listeners
www.pearsonclinical.com/speechscience
Pearson provides a variety of assessment and intervention materials for speech and language pathologists, audiologists, and related practitioners, which can lead to greater insights, better decisions, and successful outcomes for children and adults. Our respected products include the PPVT™-5, EVT™-3, GFTA-3, GFTA-3 Spanish, KLPA-3, CELF®-5, and PLS-5.