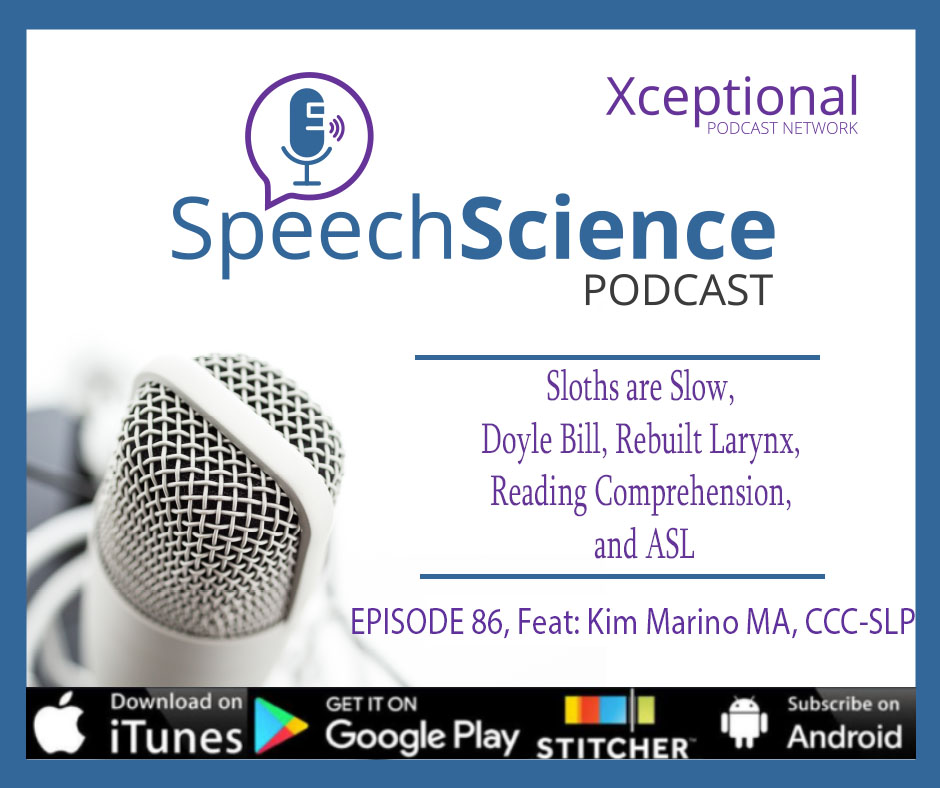 Matt left another job this week and is making plans for a trip through Star Wars' Galaxy Edge after the ASHA Convention this year.  Michael's private practice continues to grow as he brings in new clients and makes connections with other SLPs and professionals.  Michelle builds up her caseload at the new job, which means more evaluations between pool days.      
Matt sat down with Kim Marino, CCC-SLP, the author of Sloths are Slow.  A great interactive and learning book written by a fellow SLP.  The book teaches some great facts about the sloth and asks the child to interact through a series of physical and language based activities.  Also, a portion of the books proceeds each month goes to Gigi's Playhouse a local organization that helps people with down syndrome. The Long Island location is opening in the spring of 2020.
The US House of Representatives has approved a bill for $1,000,000,000 in funding for Autism.  The Doyle Bill, also known as the Autism Cares Act, would reauthorize a similar bill from 2014.  Now it goes to the Senate to be voted on before the dollars are released.   A young boy was born without a larynx.  Through a tragic accident, his family identified this difficulty during pregnancy and when he was born, the doctors were prepared.  However, they didn't stop there.  They made plans to rebuild his larynx using his ribs and completed it just after his 2nd birthday.  Linked Story courtesy of WREG News.
A newer area for school based SLPs is reading comprehension.  A new study in the Journal of Speech, Language, and Hearing Association looks at the effects of a language focused curriculum.  The group looks at how this helps in your speech room.   Delta Airlines will let passengers know which languages their flight attendants speak, starting soon Delta will include ASL as one of these languages.  What does this simple gesture mean in the world of inclusion?
Email: speechsciencepodcast@gmail.com
Voicemail: (614) 681-1798
New Episode and Interact here:
podcast.speechsciencepodcast.com
Patreon – A Chance for Dinner at ASHA
https://www.patreon.com/speechsciencepodcast
Rate and Review:
https://itunes.apple.com/…/speechscience-org-…/id1224862476…
Show Links
Sloths Are Slow
https://www.amazon.com/Sloths-Are-Slow-Interactive-Childrens/dp/173307600X
https://thomasscullyfoundation.org/events/?fbclid=IwAR2zI_GmlxuOKpABL72scQteOfE7sQJQcmHQR24CcXphv2UiJ793jGOXNic
Autism Cares Act
https://www.timesonline.com/news/20190725/house-passes-doyle-bill-authorizing-1b-in-autism-funding?fbclid=IwAR0zq4nT5pkwTnQwafzweaK8bi_h1iI_KXSqah-BXOWSuCLZG8MlZFstAro
Rebuild the Larynx?
https://fox8.com/2019/08/05/doctor-rebuilds-childs-voice-box-in-historic-surgery/
https://wreg.com/2019/08/02/le-bonheur-doctor-builds-child-a-voice-box-in-groundbreaking-surgery/
https://www.cnn.com/2019/08/06/us/first-voice-box-reconstruction-trnd/index.html?no-st=1565567721
Reading Comprehension
https://pubs.asha.org/doi/10.1044/2019_JSLHR-L-19-0015?fbclid=IwAR2xDVEwe93Al-fodzkTHbW3pYWS9w0lqwEEASSceeMxEPWJe2Iet5cFplk
ASL is a Language
https://www.today.com/news/delta-announces-uniform-change-identifying-which-members-speak-sign-language-t159871?fbclid=IwAR2zI_GmlxuOKpABL72scQteOfE7sQJQcmHQR24CcXphv2UiJ793jGOXNic
Intro Music: Please Listen Carefully by Jahzzar is licensed under a Attribution-ShareAlike License.
Bump Music: County Fair Rock, copyright of John Deku, at soundcloud.com/dirtdogmusic
Closing Music: Slow Burn by Kevin MacLeod is licensed under a Creative Commons Attribution License.
Speech Science Powered by: You!