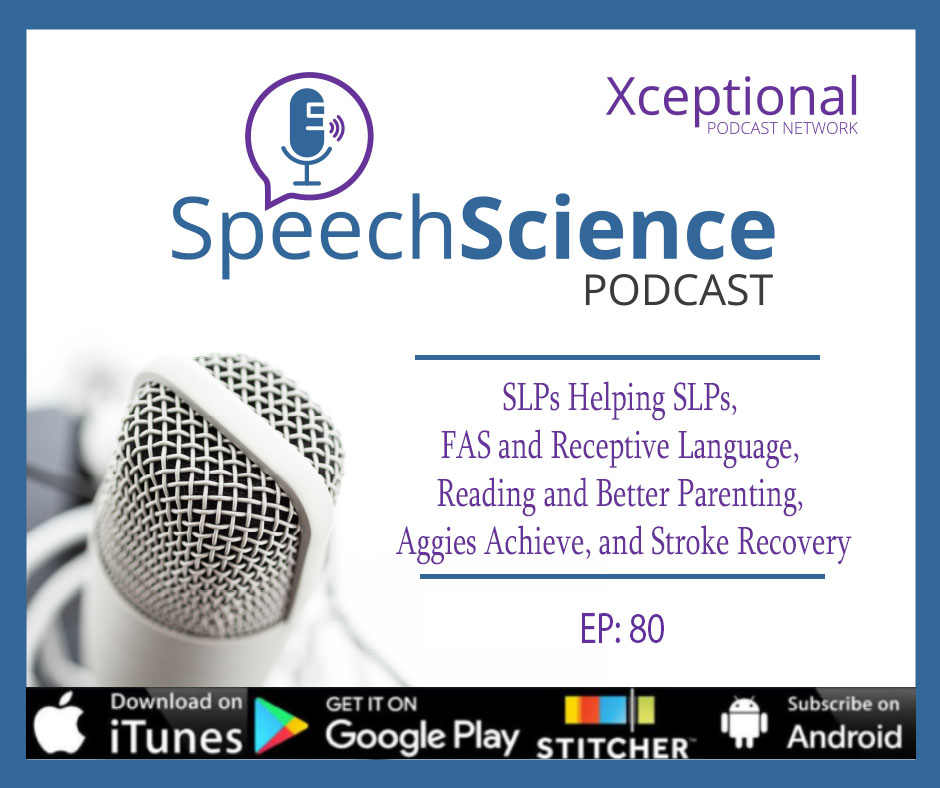 Episode 80: SLPs Helping SLPs, FAS and Receptive Language, Reading and Better Parenting, Aggies Achieve, and Stroke Recovery
We at Speech Science are heart broken for the families and friends affected on the Western Part of Ohio.  Because of this, Speech Science has started emergency.speechsciencepodcast.com to allow SLPs to help other SLPs when therapy materials are destroyed due to natural disasters. 
Children with FAS (Fetal Alcohol Syndrome) exhibit atypical auditory behaviors.  The study this week looks into the impact FAS has on the receptive language of children.  Parents who read to their children may be better parents according to a study out of Rutgers.  Reading with children may be a predictor to the type of parenting style you will employ.  Out of Cincinnati Children's Hospital is a wonderful story about a young stroke patient and her recovery thanks to her SLP.  Lastly, Texas A&M has created a program to allow young adults, no matter the disability, to attend college courses. 
Email: speechsciencepodcast@gmail.com
Voicemail: (614) 681-1798
New Episode and Interact here:
podcast.speechsciencepodcast.com
Patreon – A Chance for Dinner at ASHA
https://www.patreon.com/speechsciencepodcast
Rate and Review:
https://itunes.apple.com/us/podcast/speechscience-org-podcast/id1224862476?mt=2&ign-mpt=uo%3D8
Show Links
SLPs Helping SLPs
https://emergency.speechsciencepodcast.com
Fetal Alcohol Syndrome and Receptive Language
https://pubs.asha.org/doi/10.1044/2018_JSLHR-H-18-0359?fbclid=IwAR1Jlm96b44gvKUnYi0mF43gafcW_mrZyBzxSRBKEADRurgVJtbStnuIzk0
Reading and Better Parenting Correlation?
https://news.rutgers.edu/reading-toddlers-reduces-harsh-parenting-enhances-child-behavior-rutgers-led-study-finds/20190417-0?utm_source=share&utm_medium=ios_app&fbclid=IwAR1Jlm96b44gvKUnYi0mF43gafcW_mrZyBzxSRBKEADRurgVJtbStnuIzk0#.XPMvkYhKiUn
Recovering from a Stroke
https://blog.cincinnatichildrens.org/healthy-living/child-development-and-behavior/how-speech-language-pathology-helped-my-daughter-recover-from-a-stroke/?utm_source=facebook&utm_medium=social&utm_campaign=post&fbclid=IwAR3M6X65RgR9Sk6eXPjIbJJBzeXMS_RSH_81nxg7BK2ZGmS88wrhaa4Co_U
Aggies Achieve
https://epsy.tamu.edu/aggieachieve/?fbclid=IwAR3n9ReLodxe3D4us1ihYNSMIaQjmQZQ96nPMkDg1mdzEmHHFNuGNO3jy2c
Intro Music: Please Listen Carefully by Jahzzar is licensed under a Attribution-ShareAlike License.
Bump Music: County Fair Rock, copyright of John Deku, at soundcloud.com/dirtdogmusic
Closing Music: Slow Burn by Kevin MacLeod is licensed under a Creative Commons Attribution License.
Speech Science Powered by: You!