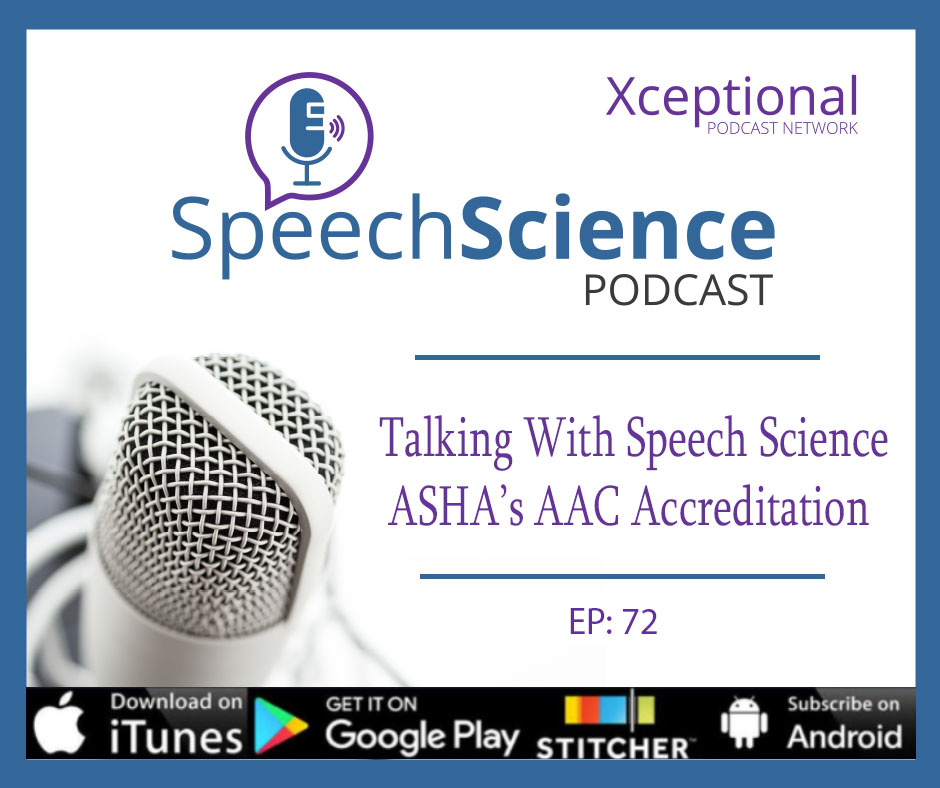 Episode 72:  ASHA's AAC Certification
This is a very special episode.  Talking with Tech's Chris Bugaj and Rachel Madel stop by to discuss the ASHA recommendation for AAC Certification.  Will this be good or bad for the field?
Email: speechsciencepodcast@gmail.com
Voicemail: (614) 681-1798
New Episode and Interact here:
podcast.speechsciencepodcast.com
Patreon
https://www.patreon.com/MWHProduction
Rate and Review:
https://itunes.apple.com/us/podcast/speechscience-org-podcast/id1224862476?mt=2&ign-mpt=uo%3D8
Show Links
Katya Hill Interview
https://xceptionaled.com/podcasts/talking-with-tech/katya-hill-developing-an-asha-specialty-certification-for-aac/
ASHA Accreditation
https://www.asha.org/SIG/12/About-SIG-12/
https://www.asha.org/public/speech/disorders/aac/
https://www.asha.org/Certification/specialty/Approved-Petitioning-Groups-for-New-Specialty-Areas/
https://www.asha.org/Certification/specialty/Establish-a-Clinical-Specialty-Area/
https://www.asha.org/certification/specialty/
Intro Music: Please Listen Carefully by Jahzzar is licensed under a Attribution-ShareAlike License.
Bump Music: The Spellbreaker by Tri-Tachyon is licensed under a Attribution License.
Closing Music: Slow Burn by Kevin MacLeod is licensed under a Creative Commons Attribution License.
Speech Science Powered by:
Special Free Tools for Speech Science Listeners
www.pearsonclinical.com/speechscience
Pearson provides a variety of assessment and intervention materials for speech and language pathologists, audiologists, and related practitioners, which can lead to greater insights, better decisions, and successful outcomes for children and adults. Our respected products include the PPVT™-5, EVT™-3, GFTA-3, GFTA-3 Spanish, KLPA-3, CELF®-5, and PLS-5.