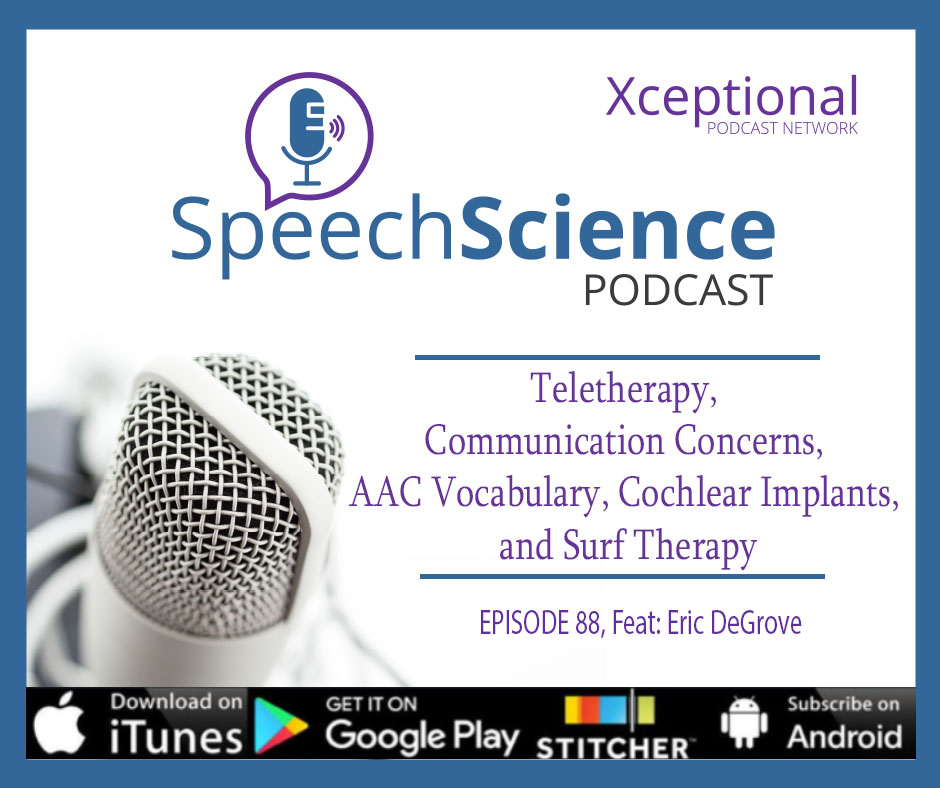 Matt and Michelle hold down the fort this week.  Matt has begun seeing his students and after 2 weeks of planning, he runs into MAP testing, which means schedule changes.  Michelle is planning a trip back to Colorado and continuing her therapy positions.  The crew continues to plan for ASHA and a special offer for Patreon donors! 
Teletherapy can be considered the wild west of the therapy realm.  Eric DeGrove from Blink Teletherapy Sessions breaks down how therapy looks and works via teletherapy.  Eric DeGrove is the founder and president of Blink Session, a telehealth platform designed specifically for speech therapy. Blink Session's story started back in 2016 when Eric and his wife, Rikki, a speech pathologist, looked into adding teletherapy to their private practice in Colorado Springs, CO where they live. They soon learned that there were no live video platforms out there with the features therapist would need to help replicate Online, what SLPs do in person. Since Eric's background is in software development, he explored the potential of building a platform that would include features that would help SLPs do amazing therapy Online, and that is how Blink Session was born.
One in 4 parents are concerned about their children's communication abilities.  How does a therapist help reach out to those parents?  How much time do you put into deciding the vocabulary to be used for AAC?  Four variables are listed to identify appropriate vocabulary to use in AAC therapy. 
Cochlear implants have been implanted for dual hearing losses.  Now the FDA has cleared the way for hearing loss in one ear and the use of Cochlear implants.  Lastly, the importance of whole body therapy is shown daily.  A group working with students to learn to surf allows therapy to be targeted in the ocean. 
Email: speechsciencepodcast@gmail.com
Voicemail: (614) 681-1798
New Episode and Interact here:
podcast.speechsciencepodcast.com
Patreon – A Chance for Dinner at ASHA
https://www.patreon.com/speechsciencepodcast
Rate and Review:
https://itunes.apple.com/…/speechscience-org-…/id1224862476…
Show Links
One in Four
https://www.asha.org/News/2019/One-In-Four-Parents-Concerned-About-Their-Child-s-Ability-to-Communicate/?fbclid=IwAR3FQpcG3EXbiXFKYO0x5fvKtuvlt76JD07N3icXRBUyldM5Yu2dNc44m_Y
AAC Vocabulary Therapy
https://pubs.asha.org/doi/10.1044/2019_AJSLP-18-0041?fbclid=IwAR2-nxKXrKJwp56EWQEuDrmmRKAY-JUAq7oegVYRVkpy7WXe5Vz7gde6DjU
Cochlear Implants
https://blog.asha.org/2019/08/23/fda-approves-cochlear-implants-for-single-sided-deafness-asymmetric-hearing-loss/?fbclid=IwAR1BxJEb5YaAgwWjtwF-IqrieKQbR2IKrgDkFPv3A9RElrMLYT9wALkbB_0
Surf Therapy
https://expo.nj.com/life-and-culture/g66l-2019/08/db0ffe83468411/shore-towns-surf-therapy-brings-joy-to-specialneeds-kids.html?fbclid=IwAR37aZC6Ok4Sl5NE7hdWWj9VXMI7DkUMkUvwmIcvZEFzrSCkw_1gELZfhLs
Teletherapy
Intro Music: Please Listen Carefully by Jahzzar is licensed under a Attribution-ShareAlike License.
Bump Music: County Fair Rock, copyright of John Deku, at soundcloud.com/dirtdogmusic
Closing Music: Slow Burn by Kevin MacLeod is licensed under a Creative Commons Attribution License.
Speech Science Powered by: You!