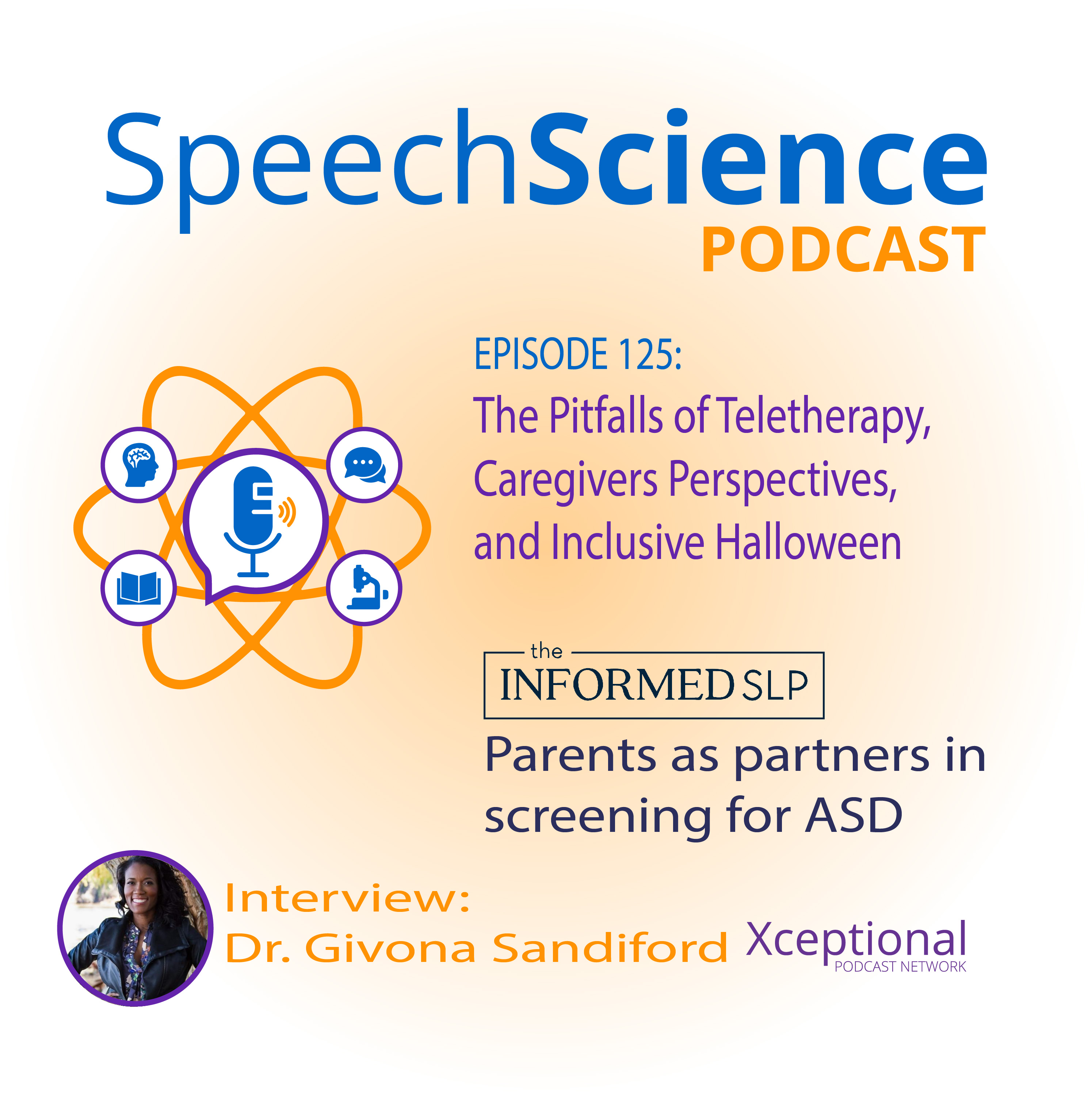 Matt announces on air that he would officially like to go back to school to get his principal's licensure to pursue his dream job in the schools.  He took his boys to learn tennis and is putting the speech schedule together.  Michelle continues to unpack and has joined an outdoor socially distant workout group.  Michael visited Ricketts Glenn State Park in Pennsylvania.          
On today's show, we discuss the telehealth company that was fined for not being truthful in its ads and we talk about the importance of caregivers perceptions of SLPs, what we do in therapy, and we react to the headlines in the news involving a Gucci's new model with Down Syndrom, dysfluency and Gabby Giffords at the DNC, and Target has new accessible Halloween costumes.  Matt sat down Dr. Givona Sandiford to talk about her Health and Fitness Journey.  This week's Informed SLP looks at the role parents play in ASD diagnosis.  We also look at our SSPOD Shoutouts and Due Process.  The ASHA spotlight looks at what ASHA is doing to improve funding and prep for SLPs in the schools. 
The Discord is up and ready for people to interact with the crew 24/7 with a new website, www.discord.speechsciencepodcast.com.
SSPOD Shoutout: Do you know an SLP who deserves a digital fist bump or shout out?  We want to know your #SSPODSHOUTOUT, which is recognition for someone doing something awesome somewhere.  Dr. Givona Sandiford deserves this week's SSPODshoutout.  Dr. Sandiford is in the running the to be Ms Health and Fitness.  Matt talks with her during the show's interview segment as well.       
SSPOD Due Process:  Do you have a complaint or need to vent, then you want to participate in the #SSPODDUEPROCESS. This week, an anonymous listener sends in the following situation.  The ESY services provided to one of her students was done by a non-SLP and the district does not want to inform the family.  What should they do?
Topic #1:    PresenseLearning settled with the California Government for $600,000 related to making false claims about the effectiveness of their therapy.  Families across the country have already raised concerns about their students not being served correctly; how do we ensure that our students that receive teletherapy would benefit from it.   
Topic #2: Caregivers value clear and direct information from their SLPs, but we as a field are not always clear.  What is the importance in using clear and defined terms when speaking to parents. 
Interview: Matt spoke with Dr. Givona Sandiford about her health journey following the birth of her child.  She is in the running for Ms Health and Fitness and can be on the cover of Muscle and Fitness: Hers.
The Informed SLP: Parents can effectively participate in early screenings for ASD via telepractice.  The Informed SLP looks at the research associated with this. 
ASHA Spotlight: We look at what ASHA is doing to advocate for safety, telepractice, increased funding, and flexibility for the upcoming 2020–2021 school year.
Contact
Email: speechsciencepodcast@gmail.com
Voicemail: (614) 681-1798
Discord: https://discord.speechsciencepodcast.com
New Episode and Interact here:
podcast.speechsciencepodcast.com
Support
Patreon – https://www.patreon.com/speechsciencepodcast
Rate and Review:
https://podcasts.apple.com/us/podcast/speechscience-org-podcast/id1224862476?fbclid=IwAR3QRzd5K4J-eS2SUGBK1CyIUvoDrhu8Gr4SqskNkCDVUJyk5It3sa26k3Y&ign-mpt=uo%3D8&mt=2
Credits
Intro Music: Please Listen Carefully by Jahzzar is licensed under a Attribution-ShareAlike License.
Bump Music: County Fair Rock, copyright of John Deku, at soundcloud.com/dirtdogmusic
The Informed SLP: At The Count by Broke For Free is licensed under a Creative Commons Attribution License
Closing Music: Slow Burn by Kevin MacLeod is licensed under a Creative Commons Attribution License.
Show Links
The Informed SLP:
https://www.theinformedslpmembers.com/ei-reviews/parents-as-partners-in-screening-for-asd-via-teletherapy
https://link.springer.com/article/10.1007/s10803-020-04554-9
Ms Health and Fitness – Vote Here
https://mshealthandfitness.com/2020/givona-sapp?fbclid=IwAR0eA8uZm9d9S1PhK6hIJ_tObUxxa2-FICGa8I6eS62jlpAAZ7lSxmGSGdQ
 https://mshealthandfitness.com/
PresenceLearning and Teletherapy
https://everythingslp.com/breaking-news/60000-telepractice-court-settlement-in-ca-government-overreach-or-valid-consumer-protection?fbclid=IwAR3_6itgkDIOvj_xZIYNG3IPOtPfOc3scbi5sZn8RLibiEBG6QjkFqzR0-s
https://www.presencelearning.com/
https://www.azcentral.com/story/news/local/arizona-education/2020/08/29/arizona-parents-children-autism-school-mask-mandates-coronavirus/3443571001/
https://wchstv.com/news/local/family-with-special-needs-child-says-remote-learning-does-not-work-for-them
Caregiver Perspectives
https://pubs.asha.org/doi/10.1044/2020_AJSLP-20-00049
 http://paetc.org/wp-content/uploads/2014/07/AIDET-Training-Presentation1.pdf
Headlines:
https://www.mirror.co.uk/news/uk-news/model-downs-syndrome-written-medics-22598147
https://www.usnews.com/news/health-news/articles/2020-08-28/teens-democratic-convention-speech-brings-awareness-to-stuttering
https://www.cnn.com/2020/08/19/politics/gabby-giffords-recovery-resilience-dnc/index.html
https://www.facebook.com/111301397172268/posts/173699284265812/?extid=mNrCSiV47BizhPHn&d=n
ASHA Advocacy
https://www.asha.org/practice/multicultural/
Speech Science Powered by: You!